An Audience With the Mafia
the Mercy Man
Rebel20 Contracts Ltd
Apollo Theatre
(2008)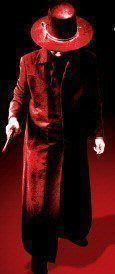 It has been rumoured that the Mercy Man (his real name is not revealed to protect his identity; although of course we can see his face) who is appearing at the Apollo Theatre has hired two minders to "protect" him whilst he is in town, exposing the secrets of the worlds most notorious gangsters.
Well, he need not have bothered since this show is about as chilling as an ice-cream. Watching the Mercy Man can only be compared to enduring the longest history lecture you can imagine, as he regurgitated fact after fact after fact. One might expect to leave this show an expert on the Mafia and their underground world of crime. However, as with all tedious history classes, one finds one's mind wandering, not paying attention and waiting for the bell to ring. I knew I was in trouble when we were at 1924 and we still had six decades to chronicle.
Alone on stage the Mercy Man with his monotonous, Jewish/Croydon/American accent roamed about like a robot imparting his knowledge about Meyer Lansky and the gang. A repertoire of about four gestures accompanied his stories, allowing the audience to detect when something important was being said due to the excessive amount of pointing.
Impressive screens (replacing the traditional projector and slides) hung behind him showing various clips of footage from years gone by, whilst Nicole Faraday made cameos as a cop, waitress, daughter of a gangster and even Marilyn Monroe. All of which had about as much truth and depth to them as characters from a high school production of Bugsy Malone, although at least those characters are deliberately tongue in cheek.
The audience were also treated to moments where the Mercy Man took on the persona of various famous gangsters as he stood under a spotlight, accompanied by music which belonged to a Crime Watch re-enactment.
Al Capone would have been turning in his grave to see his life and those of his peers transformed into something so dreary. The only time I felt any sense of dread was when I realised that I still had to sit through Act Two.
I am a bit confused as to what the director Keith Strachan's involvement in the show was. I don't think that even Al Pacino could have made this script come to life but at least with some variation in movement and story telling techniques it may have broken the decades up a bit.
By Act Two it seemed like the Mercy Man had actually managed to bore himself as well as the slowly disappearing audience and when he commented, in reference to one of his tales, that "the evening was a disaster" and the audience showed their first sign of life with a burst of laughter, I think that the Mercy Man would have had to agree.
By the end you just wanted the embarrassingly, uncomfortable experience to finish. Unfortunately what should have been an audience with the Mafia felt more like an audience with Mr Jones, your boring history teacher that you'd just rather forget.
Visit our sponsor 1st 4 London Theatre to book tickets for An Audience with the Mafia.
Reviewer: Rachel Sheridan