Audience

Ontroerend Goed
Soho Theatre
(2011)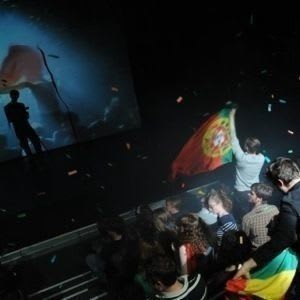 As we are taking our seats, a woman comes in centre stage to give us an informed overview of the general rules of theatrical conduct—from switching off our mobile phones to what we should do in case we want to leave the show or, even worse, come back in. "Yet this is interactive theatre" she tells us, "so you always have a choice". As lights fade, a technician comes onstage with a camera, behind him a full height projection screen. We're being filmed. And as we build a relationship with the camera—the protagonist, storyteller of this show—we enter in a conceit. This is not an experience reliant on surprise, but a carefully tailored one that embodies its interactivity in a proposition.
Given the controversy that has been imposed on it, Audience functions on a complex dramatic structure in which the actors—excellent in their duplicity and control—serve as guides to a game. The game is based on a binary—this is a piece of theatre, yet the audience is a real collective.
Audience is a show with a lot of composite parts: it challenges an audience to perform, it repeats instructions in surprisingly contradictory contexts, it simulates response, imbricates thoughts and forces responsibility. Simplicity of premise is not simplicity of thought—and Audience deserves credit for the way it translates its politics into theatrical mechanics. On the surface, it's a cunning and at times overt game, yet in its structure it's so self-aware that its constant winning in front of its provocations becomes highly expressive.
Audience is most powerful when it places something at stake—when the performance changes the context of our being there from a theatre audience to a political rally, for example, or when we're surprised with a film of our entrance into the theatre. These subtle changes really transform our perspective of the collective we are part of, also placing these in a set of different narratives guided by both the camera and the actors.
Audience uses theatrical conventions to challenge social norms, and it does so in cunning manipulation that is laid out so transparently it constantly catches us off guard. It reflects not only on the fact that we are naturally selfish beings, but that we justify so much through false moralising. Ontroerend Goed challenges the assumption that a group has a coherent set of shared values, and proposes that in any encounter, the individual is absorbed by the group, and networked in the challenges of reactions to its context.
Audience is at times uneven and even timid. When we become spectators to a debate voicing our different thoughts on the ethics of a previous scene, we feel we're part of a pretend discussion. At the same time, this is integral to the show—we feel more and more keen to discuss, and the opportunity is constantly removed. The lack of agency is challenging, but not always addressed in the best way. It is in the direct, live confrontations that the piece marks its most potent questions; at times it seems to get distracted by its own theatrical possibilities.
That being said, Audience provides many tools to reconsider and rethink our position as an individual in a series of politically, culturally, socially-mediated collectives. It is a highly expressive piece which never labels itself as controversial, and certainly doesn't deserve the dismissive critical attention it's received. Let's not confuse our position towards the politics of the show with the quality of the show itself.
Reviewer: Diana Damian