Augusta
Alan Franks
Bare Boards and a passion
New End Theatre
(2008)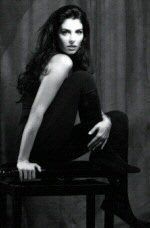 Alan Franks' intriguing new play, now receiving its world premiere at New End, is full of lies, some of them exposed as the play progresses but still leaving the audience to make up its own mind about the real truths -- so neither take everything I report here as true, nor ask me to explain or I would spoil your enjoyment if you go to see it.
Patrick, a successful British biographer is entertaining in his penthouse flat (he's not so very successful, it's in Shepherd's Bush, though he does have his initials - PH - on the lift button for his floor). Jonathan Rigby plays him slightly pompous and very properly English (though he nearly breaks out a bit later). He tells his guests that his book on the Rothschilds he only 'did for the money - as they did everyone else for money' but he turned down doing Jeffery Archer 'because I wasn't sure he existed.' Sometimes one wonders whether he and his guests exist either, at least as the people they claim that they are.
The first guest, already arrived, is Alfredo, a Portuguese-speaking South American, who as a boy of seven was orphaned by a climatic disaster, then adopted by a wealthy man who sent him to Gourdonstoun. He comes from a small state that no one has ever heard of called Cambio Wechsel (just look at the rest of the signage next time you see a Bureau de Change). He made a killing exploiting the state's production of hazelnuts and, as Patrick tells his next guest, was President of his country at just 29. George Savvides plays him as a little exotic, a conscious charm overlaying an ego that is basking in the recognition bestowed by having his life-story written. But what is that life story?
The second guest is another South American: Augusta, a former photographic model. Her face and fine figure have been seen on the covers of fashion magazines the world over, and now she is a successful painter - surely the ghastly pictures that decorate the set can't be hers. Patrick was at school with her ex-husband and he is godfather to her son who is now grown up and apparently a successful pop star. Antonia Freeling looks suitably striking, though she makes Augusta surprisingly subdued at first but exploding later with fiery Latin temperament.
When Alfredo takes a phone call from someone called Anastasio in Paraguay this sparks of a sudden recognition, a painful memory and accusations of an outrage. Are they true? Coolly and calmly Patrick tries gets his guests to state their positions and then the pop star son Daniel appears, James Palmer making him a curly-haired charmer, and a new dimension is added. The air is heavy with guilt and more emotional and sexual revelations and Chrys Salt's direction, while challenging the audience to follow the twists of new information, never lets them be quite sure what the truth really is, even when Patrick himself confesses to his own motives and feelings.
Don't get the idea that this is a dark piece about guilt and morals. It gives its audience an entertaining puzzle, leavened with laughter and an opportunity for four actors to indulge themselves in some enjoyable theatrics that Salt's direction keeps within bounds
At New End until 2nd November 2008
Reviewer: Howard Loxton