Author, Composer, Soldier-of-a-Sort
Jan Carey
Hint of Lime Productions
Pleasance Courtyard
–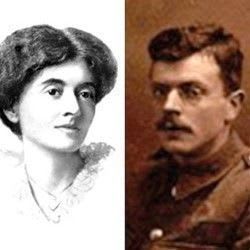 The long-lasting friendship between the esteemed musicologist Marion Scott and the
composer and war poet Ivor Gurney is certainly a timely and interesting topic on which to focus a play.
Performing the one-woman piece is Jan Carey, who also wrote the piece and clearly did so from a deep understanding and interest in the pair and the period, covering the many years and different modes their associations took during their lives from their early years together at the Royal College of Music to her tending to him in his more tragic time in Bedlam.
It's a complex and wordy script and Carey carries it well, stepping from Scott's more clipped accent to affecting Gurney's soft Gloucestershire brogue as she recites tracts from his poetry and his correspondence. At various points, the audience are treated to songs of Gurney's piped through speakers, during which she steps away from the cluttered writing desk that centres the stage and faces away from the audience that they might listen more intently.
The result is a commendable, if slightly flat, performance: absolutely brimming with detail, but lacking in any real form of staging, leading to the feeling that the table full of props is only there because someone felt it ought to be rather than because it adds anything to the performance.
This, added to the musical sections which felt imposed rather than natural, leaves this as an interesting curio rather than an wholly engaging or fascinating play.
Reviewer: Graeme Strachan