Autumn Portraits
Eric Bass
Sandglass Theatre
SUSPENSE Festival Little Angel Theatre
(2011)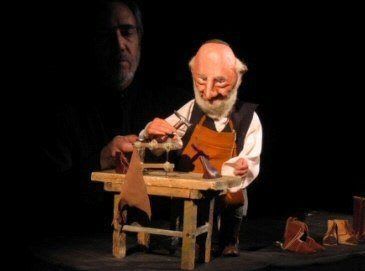 Conceived and performed by Eric Bas, this award winning show has been in his repertoire for three decades but has not been seen in Britain since 1984. Here, as part of the SUSPENSE Festival of puppetry work for adult audiences, he performs it with a freshness that makes it seem new-minted.
Autumn Portraits presents us with character studies of five different aging men, all very different. These aren't narrative pieces, though one senses a lifetime of living before all of them. The show begins with a curtained proscenium above the table-top stage and presents us, at one remove, with the all-controlling puppeteer, almost filling the proscenium behind the mask of Punchinello-like jester. He is controlling a puppet whose fur-collared cloak and fur-trimmed hat suggest a Russian Boyar whose wrists are tied together with two loops of rope. The jester produces two similar pieces of rope, ties them in the same way and then, magician-like, with a few passes separates them. He then sets up an hour glass and challenges the puppet to free himself before the sand runs out and retires behind the curtain while the puppet makes the attempt. Failure is followed by repeated challenge and failure until the jester intervenes and separates the ropes and then challenges the puppet to try again, though he still cannot do it.
It is an extraordinarily precise and carefully controlled piece of manipulation, much of it done blind because the puppeteer is behind the curtain, but its meaning is enigmatic. You could read this as a statement of their relationship: the puppet can do nothing without the puppeteer. You could see it as an analogy for those things humans are always trying to understand but are mysteries they still can't unravel, or as it something darker, is it death presenting a final challenge that mankind can never succeed in?
Next we meet an American vaudevillian overflowing with lively patter leading up to an old music hall number and then the stage surround is taken away and when, a simple setting has been set in place, we see the puppeteer as well as the puppets for all the other vignettes.
First comes a puppet storyteller with a tale of a couple and their baby and an eagle who flies down and brushes the baby with its wings. The puppet dons masks to represent the mother, who calls her husband (changing to another full-face mask) who gets his bow and arrow but the eagle flies away and it is his child who receives the arrow.
Next we see a Buddhist monk praying and striking his bowl before submitting to the sleep of death and then death calls on a Jewish cobbler. "You've come for Wegel?" he asks Death, "He's gone out." But death cannot be defeated. This is a simple but immensely touching sequence as the cobbler works and talks and finally succumbs.
The vaudevillian now comes back to lift spirits and calls on the audience to provide him with a band in a very comic intervention. Eric Bass knows how to handle people as well as puppets. We know that the vaudevillian's days are numbered but this time no one is counting and we can be sent home happy with one small request from Bass that "If you meet a little puppet in the street take him home for dinner."
This is wonderfully precise puppetry matched with the skills of a real performer whether voicing the puppet or in his own persona. This is a show that you wish was much longer than its 70 minutes.
"Autumn Portraits" runs at the Little Angel Theatre as part of the SUSPENSE Festival until 30th October 2011
Reviewer: Howard Loxton