Available Light
Lucinda Childs
Lucinda Childs Dance Company
Palace Theatre
–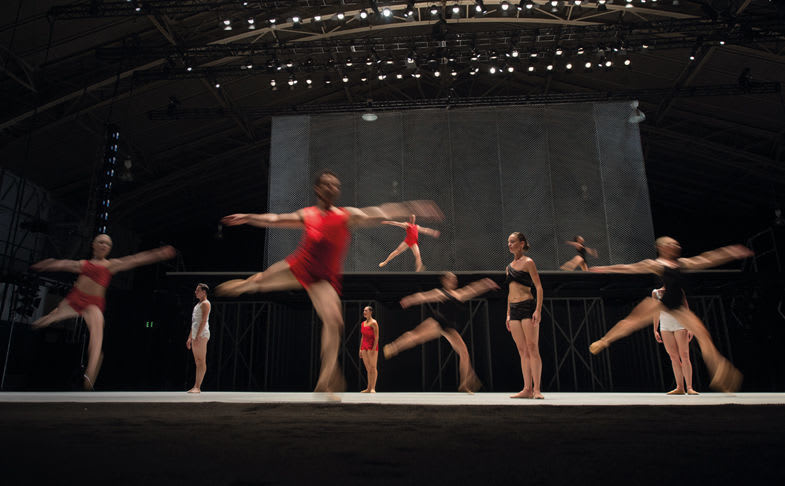 It's clear to see why Manchester International Festival chose Available Light as part of its programme. Yes, it's a multi-disciplinary collaboration between international artists, but the fact that it was originally commissioned and created back in 1983 as a bespoke piece for a derelict building makes it very MIF. Manchester is full of warehouses, depots and other repurposed buildings and several of them are in use as festival venues this year.
This revival, however, takes place in the more conventional—and comfortable—surroundings of the Palace Theatre. It's performed by choreographer Lucinda Childs's own company, and it seems that the work has aged well.
Available Light is akin to the sort of contemporary work that a ballet company might perform today, with its bursts of movement and stillness, and the default first position that the dancers return to at every pause.
Childs's choreography is intensely repetitive. Variety is present not in the range of steps used, but in the patterns created onstage. Dancers move in pairs, threes and fours, both simultaneously and in sequence, in rapid bursts of visually simple steps: low jumps, turns and walks. Movements are contained and the upper body is barely used at all—there are no lifts or any kind of assisted choreography, and the dancers seem to barely notice each other.
The overall effect is hypnotic, like watching the inner workings of a complicated machine—it's only when the music dies away and the dancers' breathing is audible that the demands of the superficially simple choreography become apparent. Fifty-five minutes is a long time to be constantly onstage, repeating the same movements.
It's interesting to see the effect the rest of the collaboration has on the piece. Architect Frank Gehry's sparse, industrial set design has an added platform above the stage, meaning that the dancers perform on two levels and yet another layer of mirroring is created.
John Adams's soundtrack "Light Over Water" is a minimalist combination of synthesisers and brass that complements the sparseness of the production design. Occasionally it is stripped back to a barely audible drone, leaving the dancers to rely on a choreographic heartbeat—their synchronicity here is particularly impressive.
The atmospheric lighting design by Beverley Emmons and John Torres moves through different phases: washing the stage in bright green and vivid red, silhouetting the dancers with a luminous backdrop, or using a shaft of white light to cast the dancers' shadows across the floor.
Available Light feels fresh and modern enough to have been commissioned for MIF 2017, and, while some may yearn for choreography that is more complex or varied, it is nonetheless a rewarding watch.
Reviewer: Georgina Wells