Avenue Q
Music and lyrics by Robert Lopez and Jeff Marx; book by Jeff Whitty
Selladoor Productions and Showtime Theatre Production in association with Richard Darbourne Limited and ABG Productions
Alhambra Theatre, Bradford
–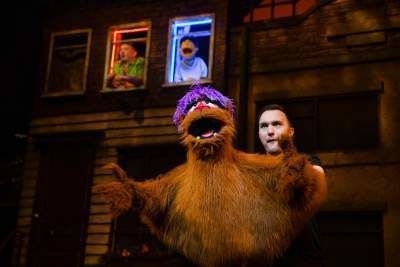 Since it first opened off-Broadway in 2002, Avenue Q has conquered the theatre world. Not only did it scoop up three Tonys—including Best Musical—it also ran for 2,500 performances on Broadway and 1,500 in London. Not too shabby for a show that began life as a pitch for Kermit the Frog to play Hamlet on stage.
So why has Avenue Q proven so popular? Well, for one thing, the show's premise is hard to beat. After all, who in their right mind would turn down the chance to watch puppets sing songs about racism, Internet porn and gay romance?
The show opens with a fresh-faced college grad, Princeton (Lawrence Smith), moving to New York to begin his working life. Eventually he finds affordable lodgings on Avenue Q in a house owned by former child star Gary Coleman (Nicholas McLean).
With no work experience and only an English degree, Princeton feels lost in the big city, but he is not alone. All the residents of Avenue Q have their own inner demons to grapple with, not least Kate Monster (Cecily Redman), a kindergarten assistant who yearns for romance and career fulfilment, and Rod (Lawrence Smith), a gay Republican who refuses to come out of the closet.
Given the show's offensive reputation, I was slightly disappointed it turned out to be less profane than I had expected. That being said, the show still has plenty of irreverent moments. Highlights include the hilarious number "The Internet is for Porn" (one of the show's most famous songs) and Rod's rendition of "My Girlfriend, Who Lives in Canada", which ends on one of the filthiest lines of the night. There's also a shockingly athletic puppet sex scene that predates Team America: World Police (2004) by two years.
Despite the show's lapses into sentiment, it is held together by the quality of the songs and the calibre of the cast. In the programme notes, the director Cressida Carré writes that the puppets are so vividly brought to life that we forget the actors manipulating them. This wasn't entirely the case for me: while the puppetry was strong, I found myself constantly drawn back to the performers' expressive faces.
In a strong cast, there are a handful of standout performances. Tom Steedon is terrifically funny as the porn-obsessed Trekkie Monster and one half of the Bad Idea Bears (genius!). Cecily Redman brings real pathos to the role of Kate Monster, particularly during her rendition of "There's a Fine, Fine Line", and is gloriously vampy as Lucy the Slut. Lawrence Smith sings beautifully as Princeton and captures Rod's mounting sexual frustration.
Richard Evans's deliberately shabby set, which economically recreates a New York neighbourhood, feeds into the idea of Avenue Q as a foul-mouthed Sesame Street. This parallel is also supported by a series of witty videos.
Avenue Q is often huge fun; I just wish it had been even more outrageous.
Reviewer: James Ballands