Avenue Q
Robert Lopez and Jeff Marx, book Jeff Whitty
Sell a Door
Liverpool Empire
–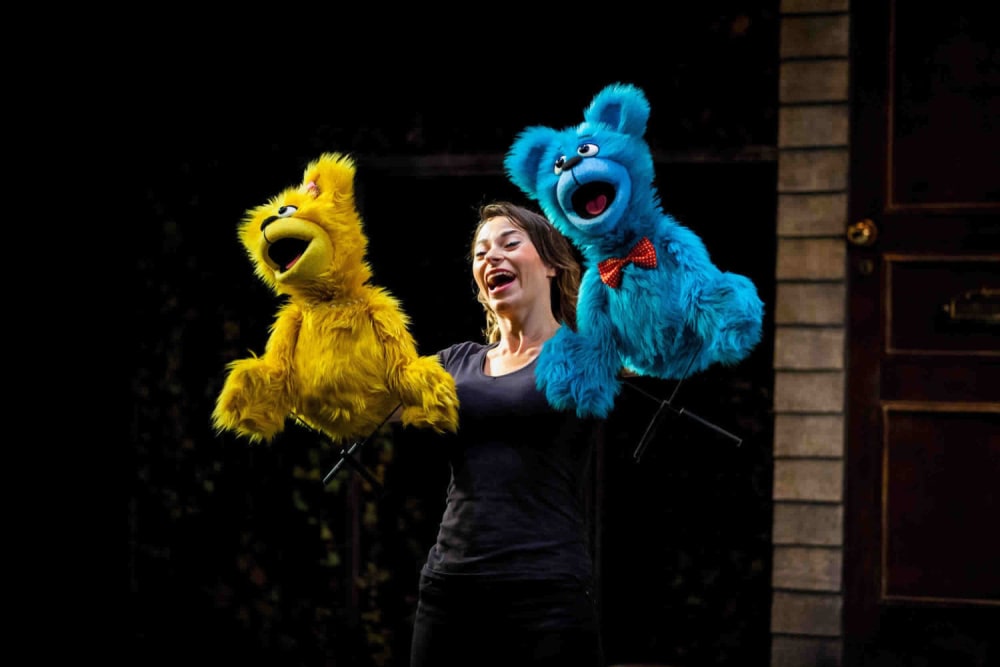 I don't know about you, but a show that has for one of its numbers a song entitled "Everyone's A Little Bit Racist" must be worth more than just passing interest. Any production this playful has just got to be worth a second look.
Set on one of New York City's many mean streets, Avenue Q is an eclectic mix of homo-puppetry that originally sprang out of hit children's TV show Sesame Street. Interaction between man and puppet is a carry-over from the television show which works surprisingly well on stage.
What develops is a rather intriguing blend of musical theatre meets Mel Brooks end-of-pier puppet show. But Punch and Judy this ain't. This is a little more sophisticated, a production that rather deftly taps into a yearning for silliness, a yearning to throw off the shackles of respectability if only for just one night.
With anti-politically correct anthems such as the aforementioned "Everyone's a Little Bit Racist" and including unforgettable reprises such as "The Internet Is For Porn", it's subversion all the way. Blush you might, laugh you invariably will.
But it's the actual art of puppetry that is arguably the show's chief wow factor. The puppeteers don't merely go through the motions here, they actually manage to imbue their cute and cuddly creations with life. Dexterity is the word.
Sarah Harlington, Richard Lowe, Stephen Arden and Jessica Parker perform their puppetry tasks unobtrusively and with a fair amount of finesse. This multi-talented quartet also manage to pull off the tricky proposition of not only operating their charges, but also delivering some strong vocal performances into the bargain.
Of the human characters, Arina II is hilarious as Chinese firecracker Christmas Eve. If you've ever supressed a guilty laugh upon hearing an oriental accent, then fear no more. Liberation is at hand. Whether the same however can be said of the Gary Coleman characterisation is much more difficult to say.
Make no mistake, this is a very smart show. Avenue Q certainly understands the appeal of the subversive and it most certainly knows how to tickle an audience's fancy. I mean, you'd certainly have to travel pretty far and wide to witness a pair of copulating puppets on stage would you not?
You'd probably have to travel even further before finding a subplot concerned with a gay puppet agonising about coming out of the closet. Novelty value couldn't be much higher. Although the fusion of the juvenile and the taboo might not be to everybody's taste, cult status is virtually a given. Avenue Q really could run and run. This is a puppet show with legs.
Every so often comes a show that makes its own rules, a show that revels in its own ribaldry, takes delight in its sheer absurdity. Gloriously anarchic and uproariously funny, Avenue Q is one such show.
Reviewer: David Sedgwick