Avenue Q
Robert Lopez, Jeff Marx and Jeff Whitty
Showtime Theatre Productions
New Victoria Theatre, Woking
–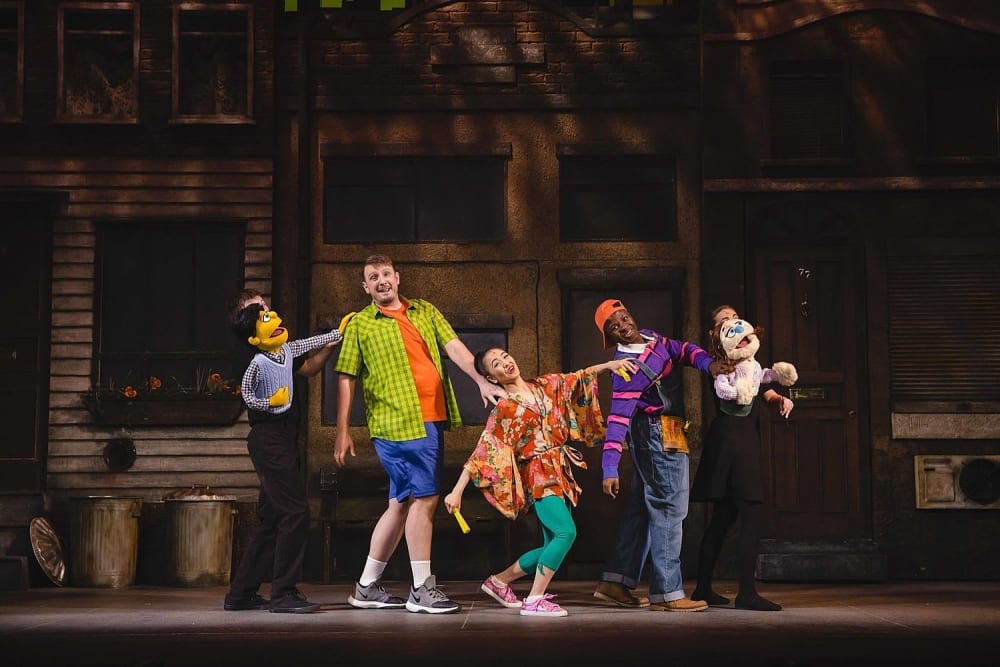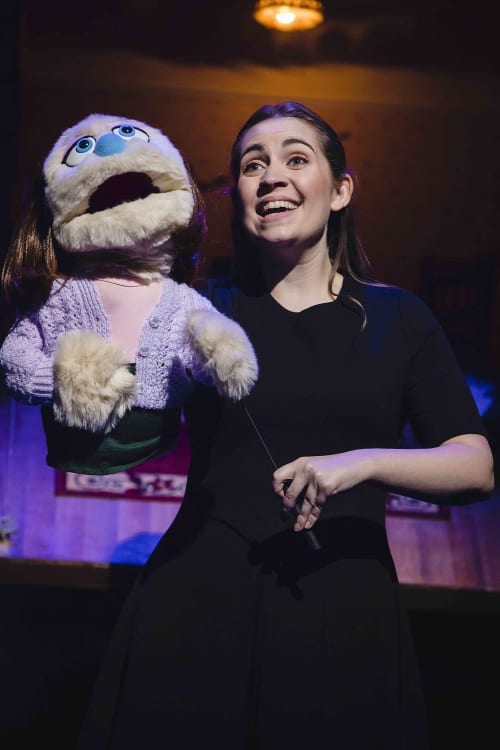 Much loved comedy Avenue Q is touring the UK, 16 years after it first hit broadway.
Robert Lopez and Jeff Marx's nimble and witty production still generates plenty of laughs, but the shock factor has rather subsided. In fact, Avenue Q seems positively polite when considering the many satirical musicals which have followed.
Perhaps this is it's charm though—an irresistible niceness with sudden dashes of naughtiness… And to be fair, the absolutely graphic puppet sex scene did catch us all by surprise. But however brilliantly the songs are performed, numbers like "The Internet is for Porn" feels like a well-worn idea and Avenue Q is no longer the edgiest satirical musical on the block.
Avenue Q is filled with Muppet-style characters designed by Paul Jomain. Set in the seedy part of town, Princeton has looked at Avenue A and worked his way all the way down to Q to find a home within his budget. This worn street is full of 'real people'—the type that have plenty of problems and very little money.
Luckily, though the material may have lost its edge, the cast members have not lessened in skill or talent. The versatile puppeteers voice multiple characters and the vocals are brilliant throughout. All of the performers are able to utilise their beautiful instruments to great comic effect and to serve characterisation.
Cecily Redman plays both Lucy the Slut and Kate Monster with great adaptability. The husky toned Lucy contrasts with shy and endearing Kate Monster. "There's a Fine, Fine Line" is the most sincere song in the show and Redman's performance is touching.
Lawrence Smith as Princeton is an earnest young man with a great voice. Tom Steedon is hilarious as Trekkie Monster and both he and Megan Armstrong fizz with energy as the Bad Idea Bears.
Saori Oda really impresses in her stereotyped Japanese role of Christmas Eve—her character singing is top notch and just makes me want to hear her in a role with more traditional vocals as she's clearly a talented singer. Avenue Q is accompanied by a superb offstage band led by Dean McDermott.
Alongside all of these talented actors, of course, are the real stars of the show: the puppets. As the actors channel their emotions through Jomain's seemingly simplistic, bright-coloured designs, the puppets come to life and are quickly engrossing.
Avenue Q has plenty of risqué humour, but deals with plenty of real issues and at times is poignantly touching. Most importantly, this revival tour is presented by an exceptional cast, who continuously impress.
Reviewer: Louise Lewis