Avenue Q
Robert Lopez and Jeff Marx
Sell A Door Theatre Company
South Hill Park Arts Centre
–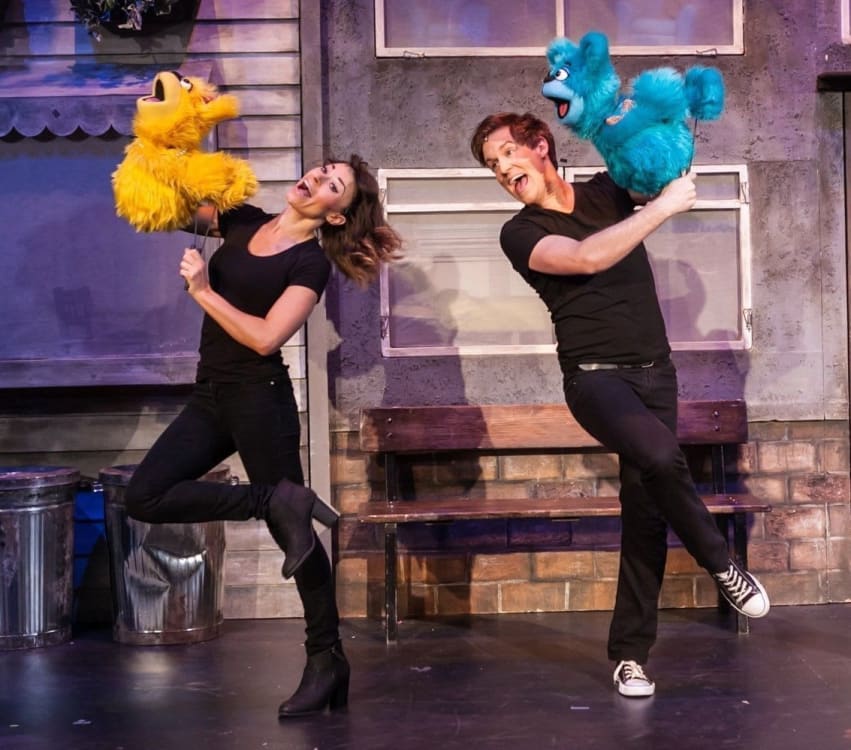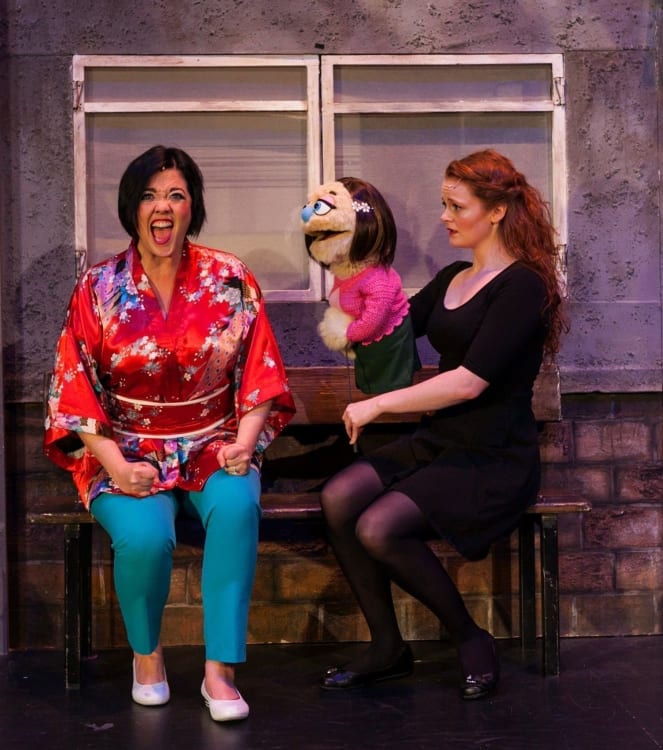 Avenue Q is a Muppet-style musical for grown-ups, full of rudeness, cheeky jokes and adult topics.
Young production company Sell A Door is now taking its version around the UK to local theatres and arts centres. The aim of the company is to stage productions for teenagers and young adults that will encourage them to engage in more theatre, and their third venue was at South Hill Park Arts Centre in Bracknell.
It was an enjoyable evening, full of laughs and the audience left thoroughly entertained. The venue is lovely, and it is always good to see a local arts centre packed out.
The show tells the story of a run-down street in New York, where recent English graduate Princeton finds a home and makes friends with his neighbours, some more than others. The neighbours are each a caricature rather than a character, and intended as a satire of exactly that kind of stereotyping.
They guide Princeton through his journey of self-discovery as he tries to find his purpose in life, falls in love, messes up and rebuilds. It is Tony Award winning show, and was hugely popular on both Broadway and the West End.
Avenue Q began its life with Robert Lopez and Jeff Marx in 1999 before opening off-Broadway three years later—that's nearly 15 years since it was first written. I found myself questioning whether a script full of cultural references that were contemporary at the time would age well or translate to a young audience in 2014, especially one in Bracknell not known for its similarities to New York.
I was surprised to find a packed house full of laughing adults, and realised that I, who really didn't enjoy the crass, dated humour, was very much in the minority. I must admit, there is something amusing about a musical theatre discussion of racism, and finishing a rhyming verse with the words 'hate crime', or watching puppets enthusiastically 'consummating' their relationship.
However, the jokes within the show, the stereotyped characters and clichéd devices left me feeling like I'd seen and heard this all before somewhere in a dingy stand-up comedy bar. Comedy has, mostly, moved on since we were all laughing at foreigners, gay people and nagging wives. And whilst this show is aiming to satirise exactly this kind of humour, it ended up falling foul of it, and had nothing sharp, intelligent or witty to say.
This is a failing of a script that is over a decade old, rather than of the performers or the company, who delivered well. Full of children's television style enthusiasm and energy, they skipped about the stage, in this highly polished production.
There were some issues with lighting; faces rather than puppets ending up taking centre stage, and some clunky transitions. The requirement with visible puppeteers is that their physical performance must be perfect, their focus must direct the audience to the puppet rather than themselves, they must melt into the background. As soon as a puppet loses its audience's focus, it loses any sense of life, and the focus in this piece was often confused.
This is because the primary job of the show is to be funny and musical, so the puppets ended up feeling like little more than a prop. However, there were some really high quality musical theatre voices, and some performers slipping from accent to accent very skilfully, and this is impressive to watch, but again, you are watching the singers, rather than the puppets.
This show feels a bit like a guilty pleasure, and if you want an easy, light and entertaining evening, with laughs and songs that will be stuck in your head for days, then Sell A Door's Avenue Q is for you.
Reviewer: Liz Allum