Avenue Q The Musical
Music and lyrics Robert Lopez and Jeff Marx, book Jeff Whitty
Sell A Door & Richard Darbourne
Grand Theatre, Blackpool
–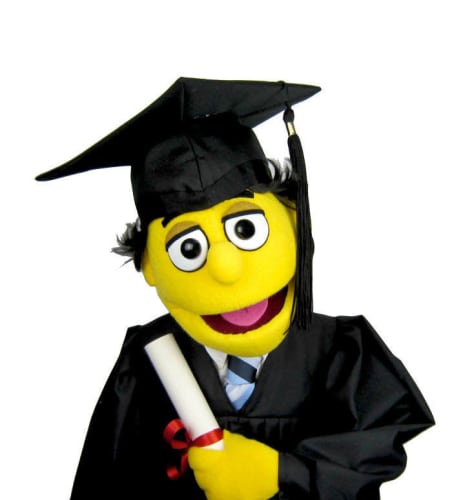 What Sesame Street did for pre-school children, Avenue Q does for the post-school generation.
Through entertainment, they educate and inform their audience. The two thoroughfares may be way across town from each other but they are on a direct route to attracting youthful audiences into theatres. It's only that Avenue Q is in a part of town you very definitely don't want to take the youngsters!
Don't be fooled by the cute colourful characters. They may share some of their puppet DNA with Jim Henson's Muppet creations but the species has jumped a generation. Out of the mouths of baby-sized puppets pours invective, profanity and piles of acerbic American humour to make this show strictly one for grown-ups. Issues of race, gender, identity, sex—and more—spew forth in a frank and funny narrative about a young man's search for his purpose in life.
They may call it puppet love, but even the bedroom antics of two hand in glove characters here proved too much for at least one audience couple on opening night. They left without making excuses!
This is Avenue Q's second national tour, this time in the hands of joint young producers Sell A Door theatre company and Richard Darbourne, the latter bringing it to his hometown for the first time.
Equally at home was fellow former Baines High School pupil Lucie-Mae Sumner, performing the Kate Monster and Lucy the Slut characters, sometimes voicing them both simultaneously.
Like the rest of the cast, there's no attempt to conceal or detach them from their puppet sidekicks. It's a theatrical effect that works remarkably well.
The sound mix and some cueing, at least on opening night, were not quite as slick with the six-piece band occasionally overwhelming the lyrics.
But in the resort that gave birth to an anarchic glove puppet—remember Sooty?—Avenue Q proves that one of theatre's oldest attractions, marionettes, still have a lot to tell us about ourselves.
Reviewer: David Upton