Avenue Q
Music and Lyrics by Robert Lopez and Jeff Marx, book by Jeff Whitty
Gielgud Theatre
(2009)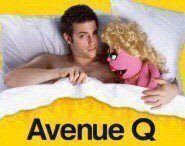 Sarcastic Sesame Street for adults, this gleefully irreverent puppet musical chronicles the tribulations of the young New Yorkers who live in a down-at-heel Brooklyn neighbourhood. Recent college graduate Princeton (the excellent Daniel Boys) arrives on Avenue Q, looking for a job and his Purpose in life.
The central conceit of Robert Lopez and Jeff Marx's creation has the furry-faced puppets living amongst the human residents of the Avenue. These puppets are skilfully manipulated by the clearly visible cast, and interact effortlessly with the three human characters, and, despite the puppeteer-actors' expressions and body language mirroring that of the puppet characters, it is the puppets' faces to which the eye is drawn.
And what engaging puppets they are. Mark Goldthorp's gravel-voiced Trekkie Monster is a treat, and the deliciously mischievous Bad Idea Bears (one of whom is also voiced by chameleonic Goldthorp), a pair of insane Care Bears as instruments of Chaos are very funny. Funnier still are the sardonic show tunes, Japanese-American character Christmas Eve memorably sings "evelyone's a rittle bit lacist sometimes"; closet case Rod's (entertainingly played by Daniel Boys with a shrilly repressed campness) defiant solo song "My Girlfriend Who Lives in Canada"; and a big glossy paean to "Schadenfreude" being comic highlights.
The entire ensemble are terrific singers, and the exceptionally talented Julie Atherton is pitch perfect in every sense, switching effortlessly between sweet-voiced Muppet-next-door Kate Monster, and pneumatic vamp Lucy the Slut.
Jason Moore's slick staging refers again to its Muppet roots with a series of witty animations, and Anna Louizos' inventive multi-layered set design has the characters popping out of the apartment windows of the brownstone houses, which also open out to portray puppet-sized interiors.
Some of the gags have dated rapidly since the London opening of this Tony Award-winning Broadway hit at the Noël Coward Theatre three years ago; "George Bush WAS only for now" feels almost historical, but the passionate, skilled cast feel fresh, and Princeton's heartfelt hymn "What Do You Do with a B.A. in English Literature?" does resonate more than ever for today's unlucky graduates.
Jeff Whitty's book has plenty of cracking one-liners, but a good serving of schmaltz alongside the snappy dialogue and drunken puppet sex. Like Kate Monster, this big-hearted tale has only a surface layer of cynicism. The homespun morals of the ending - bad girls get their comeuppance and once you pull together and help others, you help yourself - do take the sting out of the satire, but this polished production is so charming it hardly matters.
Smart, sassy and occasionally saccharine, Avenue Q may not have the bite of the late lamented Spring Awakening, but it is the perfect feel-good antidote to glum recession blues.
Philip Fisher reviewed the original London production at the Noël Coward Theatre
Visit our sponsor 1st 4 London Theatre to book tickets for Avenue Q
Reviewer: Beth O'Brien