Avenue Q
Music & lyrics by Robert Lopez and Jeff Marx; book by Jeff Whitty
The Lowry, Salford, and touring
–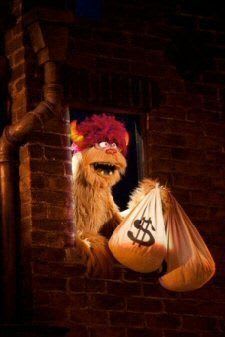 Avenue Q was originally conceived by young musical-loving writers Robert Lopez and Jeff Marx as a show that would appeal to people of their own age, most of whom regard musical theatre as old-fashioned and irrelevant to them. The result is a show that pokes affectionate fun at things that would be instantly recognisable to people in their late twenties and early thirties such as Sesame Street, leaving university and not knowing what to do next, sharing a flat, relationships and a great deal more.
While the puppets, animated sequences and occasional forced jollity are undoubtedly sending up Sesame Street, Avenue Q is more than just a parody of the popular, long-running TV show, which could quickly become tiresome. There is a story running through it all, beginning when Princeton, a new and poor college graduate, moves into this cheap neighbourhood and there is an immediate attraction between him and kindergarten teacher Kate, who is a monster. Also in the apartment block are wannabe comedian Brian and his Asian-American fiancée Christmas Eve, porn-obsessed Trekkie Monster, flat-sharing friends Rod—who might be gay—and Nicky, and the block superintendent Gary Coleman, who was a child star in the sitcom Different Strokes. They are also visited by sexy nightclub singer Lucy the Slut and the cute but very naughty Bad Idea Bears, who act as a sort of anti-conscience.
This setup already shows potential for encountering lots of issues with the selection of characters, but where the handling of issues in a show like Rent comes over as just worthy and forced, here they are dealt with using humour in a way that is refreshingly honest and profound as well as very, very funny. Racism is a divisive issue in America (and elsewhere of course), but if we accept, as the title of the song says, that "Everyone's A Little Bit Racist" then perhaps we can move on. "Schadenfreude" similarly accepts that we all feel better about ourselves through witnessing others' misfortunes, whether we admit it or not. "Mix Tape" and "There's A Fine Fine Line" deal with uncertain feelings over a new relationship, "Purpose" is that feeling we all have at a certain time in our lives that we are destined to achieve something great one day, "The Money Song" tells us that it feels good to do something generous for someone else, "The Internet is For Porn" tells us... well, that the Internet is for porn.
The script and songs integrate perfectly into a show that at times is very rude and sweary and is mostly very funny indeed but there are moments also that are quite moving; I defy anyone to fail to shed a tear for these puppets. The production looks great and moves along at a fair old pace and has some great performances all round. Many of the puppet performers play a pair of characters, so the star parts are played brilliantly by Rachel Jerram as Kate Monster and Lucy the Slut and Adam Pettigrew as Princeton and Rod, both actors too young to have yet made the discovery that our lives don't have a purpose. Chris Thatcher is superb as Nicky and Trekkie Monster and is also one of the Bad Idea Bears with Katharine Moraz. Human characters are played by Jacqueline Tate as Christmas Eve, Matthew J Henry as Gary Coleman and Edward Judge as Brian.
Two points to finish: listen out for the replacement for "George Bush" in the "For Now" song, which works brilliantly; and do put money in the hat when it comes round in "The Money Song" as it goes to charity.
As a show, it's skilfully written, hilariously funny, makes you think at times and moves you at others and it's the most fun I've had in a theatre this year. See it before it leaves the region.
Sheila Connor reviewed this production in Woking
Reviewer: David Chadderton