Awkward Conversations with Animals I've F*cked
Rob Hayes
Awkward Productions
King's Head Theatre
–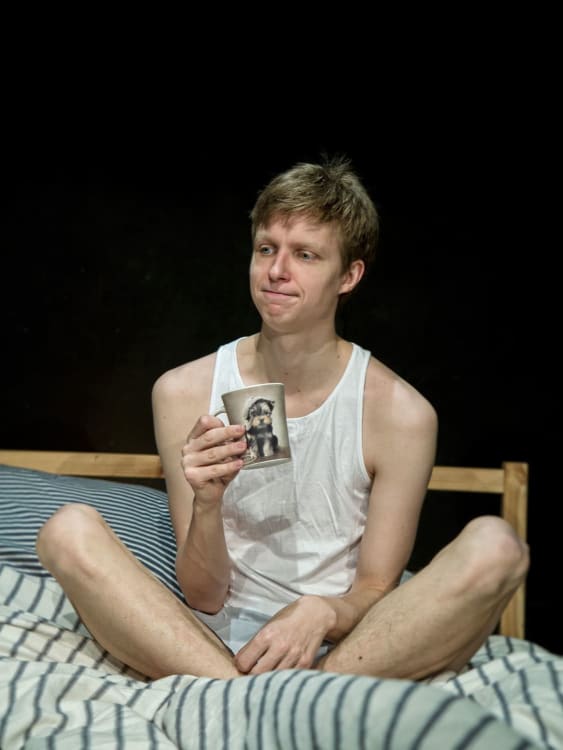 It's true, we are all animals. True too that sex embraces varied orientations but be warned that Rob Hayes's play, first seen on the Edinburgh Fringe in 2014, means its title quite literally. It presents nerdy young Bobby on his one-night stands with a succession of four-footed friends he encounters.
If the title causes you problems, it's not for you and perhaps you had better stop even reading this. King's Head regulars, however, cover a broad church, come broad-minded (and perhaps a tiny bit prurient?) and able to take it in their stride and treat it as comic satire.
The set that greets them of an unmade bed, clothes strewn on the floor and a pile-up of clutter looks like a Tracy Ermin send-up and the black drapes that hide the set of the show that precedes it each evening only add to the squalor. When the lights go up after a blackout to reveal Linus Karp in bed and in role as Bobby, he's not alone, though there has been no attempt to cast the companion who listens without speaking to the awkward flow of his post-coital, morning-after conversation.
When he tries on a dog collar then decides it's not his thing, it could be just S & M fetish but it soon sinks in that last night's pick-up wasn't human.
This is just the first of a series of encounters with various species in which this gentle, lonely fellow, who at first guess is a promiscuous gay man, seems to swing both ways though surprised and a little disconcerted at being buggered—being the socket, not the plug as he puts it.
It began as laughable bad taste and perverse humour but—and it is a big but—it's not a joke. Bobby's plight attracts sympathy as he looks for love and liaisons wherever he can find them, sacked from his boring job making fundraising telephone calls for an animal charity when he wants to give them first-hand help, dreaming of opening a pet shop with an animal partner, his computer removed for inspection, police sirens outside.
This is a painful piece that touches on many things: difficult blind dates, rough trade, people trafficking for sexual exploitation, as well as a plea for a better understanding of the deviant.
Linus Karp's Bobby rabbits on in his efforts to make meaningful contact as though it is spontaneous and he is also an actor who is a good listener (which can be more of a challenge) making the audience struggle to understand the unspoken animal reaction as hard as he does.
Reviewer: Howard Loxton