Babe, The Sheep-Pig
Dick King-Smith, adapted by David Wood
Mercury Theatre Colchester
Mercury Theatre Colchester
–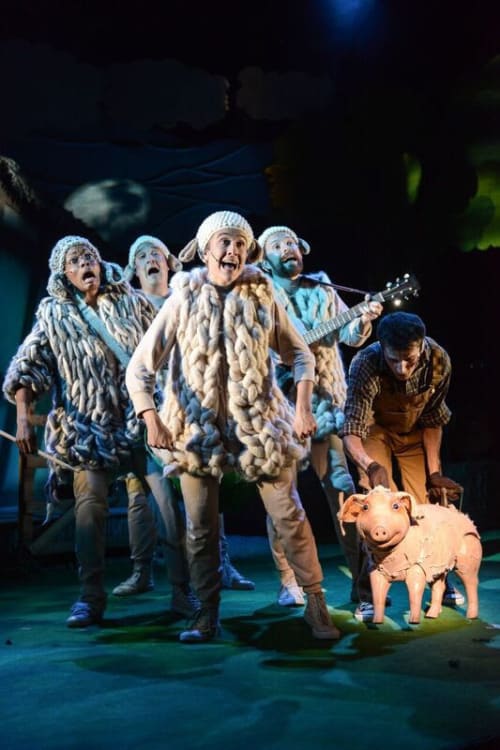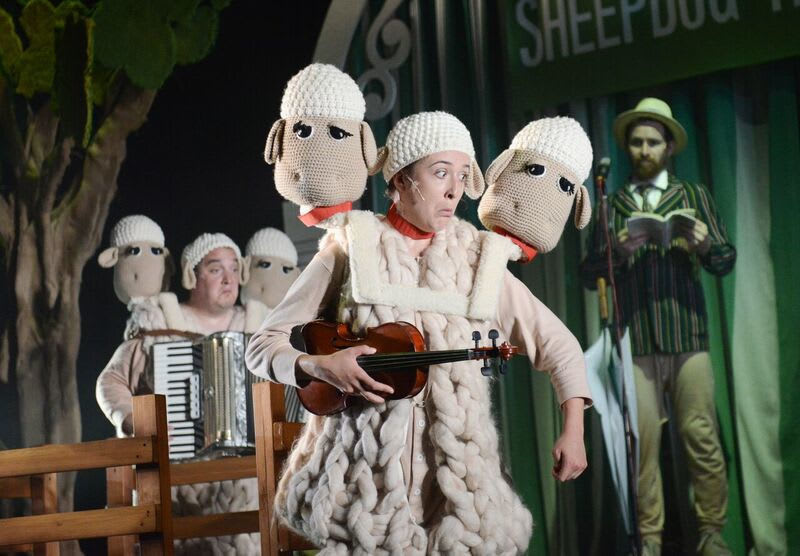 Dick King-Smith's most famous book was adapted for film in the middle 1990s and was an instant success. The stage version was first toured in 1997 and this is Colchester Mercury's own take on it as part of their 'Made in Colchester' programme.
This is a delightful production that is both colourful and magical for children and adults alike. The adaptable set is as quirky and bright as a cartoon, with a central farmhouse that spins round to reveal the inside, large green trees and big white clouds fill the landscape, and there's grass and farm gates a plenty.
The eight-strong cast double up as sheep, puppies, chickens and other animals while playing instruments and singing the very catchy songs that regularly punctuate the action.
Gareth Clarke is a solid Farmer Hoggett and Heather Phoenix his well matched, talkative wife. Jessica Dyas is an endearing Fly the sheep dog—upset at losing her puppies but willing to befriend Babe to fulfil her frustrated motherly instincts. But the star of the show is the puppet of Babe, given a voice and movement by Jonathan Cobb. Beautifully made—it is animated and very realistic.
For those who don't know the plot: Farmer Hoggett wins a pig at the sheep dog trials with the intention of fattening it up for the table but his wife falls in love with the intelligent little fellow and, after Babe defends the sheep from danger, Fly is allowed to train him as a herder of sheep. Babe, through politeness and determination, makes the sheep do what he wants and in the end wins the trials. It's all about being yourself, believing in your dreams and reaching for the stars—some positive messages sorely needed in our world at the moment.
The costumes are excellent, the pace sharp and the humour continuous. There are points of emotional drama in the plot and my six-year-old was entranced throughout the 90-minute production, singing along with the songs and laughing with the sheep, which is probably the best recommendation I can give it. He even got to meet Fly and Babe on stage at the end. Magical indeed.
Reviewer: Suzanne Hawkes