Babel (Words)
Sidi Labri Cherkaoui / Anthony Gormley / Damien Jalet
Cirque Royale / La Monnaie, Brussels
(2010)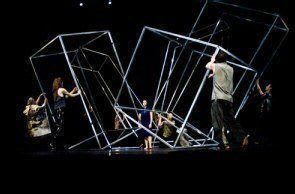 Sidi Labri Cherkaoui is an internationally-acclaimed choreographer/dancer whose name remains little known among UK audiences in spite of his ongoing collaboration with British sculptor Anthony Gormley, and with British-Bangladeshi choreographer/dancer Akram Khan (Zero Degrees, 2005). Happily, Sadler's Wells Theatre has been enlightened enough to programme his work in London for several years now and Babel (Words), which premiered in Brussels this week, will be staged in London next month for just two not-to-be-missed performances.
This is cutting-edge dance theatre; a stunning display of physical grace, acrobatic virtuosity, stylistic eclecticism and inexhaustable energy that galvanises the senses. In continuing earlier investigations into the conundrums of la vie humaine (Foi and Mythe), Cherkaoui and collaborating choreographer Damien Jalet offer us a profound and witty (at moments hilarious) meditation on language and communication brought with their characteristic passion. I remain amazed at Cherkaoui's remarkable capacity to blend transcendent spirituality and wholesome earthiness, to challenge the mind while engaging the emotions, and to deal with grand themes without the slightest hint of pretension or pomposity.
The body itself is a continuous and cherished source of inspiration for Cherkaoui, more than merely a vehicle for expression and a tool on which cultural and racial identities are inscribed. Every new work is a new departure investigating the body's potential through different physical languages and from alternative perspectives. In Babel, the theme is the role verbal language has played in the descent of homo sapiens from sagacity to mayhem as humankind's aspirations result in prepossessing architectural structures and divisive territories (courtesy of Gormley), towering and forbidding deities, prattling neuro-scientists, defective robots, babbling masses and fisticuffs.
The product of contemporary interculturalism, a Flemish Catholic mother and a Muslim Moroccan father, from a country further divided along linguistic boundaries (Flemish and French Walloon), Cherkaoui fully understands the implications of our contemporary multiculturalism. For him it is a source of creativity, a provocation, an opportunity. "I've always considered myself lucky with my background because I had this double lineage. I never felt I was in the path of one culture, one vision or one truth. I'm a very big doubter; I like doubt. I think it is one of the most important things one should have in one's life." (interview Londondance.com 2009).
Babel opens in Brussels just days after the Belgian government has fallen due to a crisis in the multilingual political constituencies. An investigation of how we communicate and (mis)use languages is apposite in Cherkaoui's own backyard and far beyond. As one of the dancers tells us at the beginning -- in words and in English, accompanied by gestures, an exquisite sign language -- before we learned to verbalise we communicated with the body, a far more subtle tool of expression, and, more importantly, greater understanding was advanced through misunderstanding because no-one was ever afraid to say, with the body, 'I don't understand'. And, perhaps, this hits the nail on the proverbial head.
Cherkaoui's own company, Eastman, which is a literal translation of his surname from Arabic, consists of artists/dancers/musicians from thirteen different countries, speaking fifteen different languages and representing seven different religions. This is a veritable microcosm of humanity in which physical, verbal and artistic languages play a crucial role in the creative process. They bring to the workspace and to the stage a vast range of traditional, contemporary and popular artistic skills. The choreography draws on the diversity of talents and cultural backgrounds. The music, composed by Patizia Bovi, is contemporary with a mediaeval, oriental flavour, blending ancient and modern instruments, and the superb voice of Christine Leboutte. The dancers are as vocally adept as they are physically accomplished and the music has always played more than a mere walk-on part in Cherkaoui's choreography.
Referred to humorously by Sanjay Roy in The Guardian as "the bendy Belgian choreographer...[who] can twist himself into pipecleaner contortions", Cherkaoui has followed a remarkable trajectory from the teenager who learned to dance watching MTV and earned money dancing on popular television shows to the choreographer renowned for his rich eclecticism and serious themes who can say: "My work has always been a bit of a search for a moral code - trying to find what is the right behaviour to have." (interview Londondance.com, 2009).
Perhaps this trajectory is one for our own times, one which enriches contemporary dance and should encourage other young dancers. While performing on television, Cherkaoui took classes in a range of styles: ballet, tap, jazz and flamenco. And he was already embarking on choreography. "I had started to make choreography - I'd mix this, with this, with this and make my own work and then & people said 'this is contemporary dance you're doing" and I said 'contemporary what'? I only knew the traditional forms, I didn't know contemporary." (interview Londondance.com)
After winning a dance competition and meeting with Alain Platel and Wim Vandekeybus, Cherkaoui entered the prestigious Brussels-based dance academy P.A.R.T.S under the auspices of Anne Teresa de Keersmaeker. Subsequently, he danced with Platel's Les Ballets C de la B where he started to make his first professional pieces as a choreographer. By 2004, at just 28 years of age, he was being commissioned by the Avignon Festival and other international commissions followed rapidly and as a result he has been able to focus on exploration. Alistair Spalding, director of Sadler's Wells Theatre, refered to him as "part-contortionist, part visionary, part poet" (The Telegraph, 2007).
Cherkaoui has continued to investigate new languages, physical, musical, image-based, an eclectic blend that both enriches language and defeats the tendency to contain and compartmentalise. "For me animals have the perfect movement - they are totally in sync with their muscles, their skin tissues and their bones - it's just one thing, whereas humans are a bit fragmented - animals know how to link everything." He challenges himself and his capacity for expression by collaborating with people entirely different to himself, even if artistically they might be on the same wave length. Akram Khan with his background in traditional Indian dance, Maria Pages (flamenco), Shantala Shivalingappa, Wim Vandekeybus, actors with learning difficulties, the kung-fu Shaolin monks in China, with whom he spent several months training before creating Sutra. As Luke Jennings put it: Rien de Rien [Cherkoui's first entirely independent choreography in 2000] was "a piece of such diverse range that it seemed to recalibrate the coordinates of the 21st century dance-theatre."
While Babel seems to focus on the chaos intrinsic to human communication and the troupe bursts into verbal aggression in a multitude of languages, before deteriorating into kicking, elbowing, stomping, gouging, punching and a rumble that makes the gang warfare of West Side Story look like a cream-tea party, the ensemble precision is delicious to witness. It is a reminder that in diversity there is a potential unity; that in chaos one can find stability. Cherkaoi is also interested in a scrutiny of human interaction in proximity and there are several duets of tantalising fluidity as couples entwined in love or war twist and sprawl in breathtaking configurations. There are words galore, ironic, funny, blunt, and dazzling solos. Each and every dancer can hold the stage individually or dissolve into the melee of collective human chaos, before the ensemble merges again to transfix us by the ease with which humans can achieve collaboration and togetherness. In this respect, Babel seems ultimately more optimistic than Foi or Mythe.
Babel was a joint production, brought into being by Sidi Labri Cherkaoui's own production company Eastman and La Monnaie in Brussels. The latter, along with the Toneelhuis in Antwerp, by investing their assets and resources, have made it possible for young choreographers (and theatremakers) to develop risky, experimental work. In an age of financial crisis, when subsidies are being questioned, we should bear in mind the debt we all owe to these cultural organisations and pray that they may long continue to sponsor our creative future.
I would also like to apologise to Damien Jalet if I seem to have underplayed his collaborative role in the creation of Babel, by focusing so heavily on Sidi Labri Cherkaoui.
Coming to Sadler's Wells Theatre, 18-19 May 2010
Vera Liber reviewed this production at Sadler's Wells
Reviewer: Jackie Fletcher