Babes in the Wood
Tony Lidington
The Georgian Theatre Royal, Richmond, North Yorks
–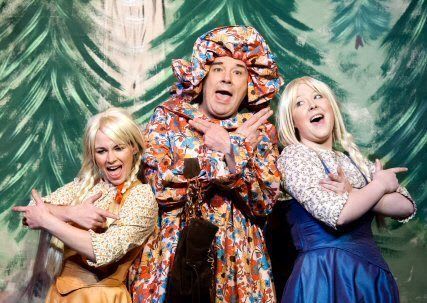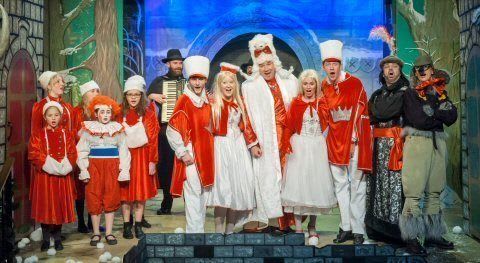 Imagine all the pantomimes you've ever seen in your whole life. Now, hold that thought and squash it, squeeze it and stuff it all into one production. Got it? Right, that sums up director and writer, Tony Lidington's production of Babes in the Wood in a nutshell. The slight problem with packing all that business into just one production is that there has to be some form of sacrifice. In this case the payback is the lack of a coherent storyline. But you know, it didn't matter a jot. It's the fun factor that is what really matters and how much enjoyment and laughter is produced.
The show opened in high-spirited Sesame Street style with a delightful collection of cheeky puppet birds sticking their heads through the curtain and singing their little hearts out. An excellent Penny McDonald is Holly the Woodsprite who is responsible for the magic, using a lovely rhyming language of nonsense that involves the audience from the very start.
Gary Bridgens' Baron van Rental has all the boo and hiss of a brilliant baddy and a grumpy ventriloquial crow, Nark, perched uncomfortably on his arm. Bridgens is also the chap trapped in a friendly bear suit and one of the funniest lines, delivered by Nursey Goodnight, has to be "Exit, pursued by a bear!" Shakespeare would have been proud.
Nursey Goodnight is the priceless Dominic Goodwin, a one-of-a-kind Dame who can produce a ripple of laughter with the flick of an eyebrow and a tsunami of the stuff even with a bad joke. Goodwin is a chunky chap, so his outrageous frocks make him even larger than life and twice as funny.
Prince Who (Tom Burton) and Prince What (Andy Kelly), the delightfully tongue in cheek babes with an hilarious speech impediment, eventually fall in love with Amber and Willow Goodnight (Katie 'Bunny' Tranter and Sarah Kearsley) in a very funny dressing up scene. A lovely little piece of puppetry sees them packed into a dandelion seed for a journey across the audience where we were all encouraged to blow to help them on their way.
Slapstick and wall paper paste make a soggy mess as the babes try their hand at decorating and for the first time in this delicate building's recent history there was a brave collection of flash-bang fireworks.
Okay, there was a bit of a lack of finesse, those sharp edges that only posh props, expensive costumes and expert scene painting can supply, which did frankly let the look of the production down a little. But money can't buy true enjoyment and the laughter produced was loud and easy with local children expertly choreographed and thoroughly enjoying themselves, plus a collection of sing-a-long songs and a crazy audience-led snowball fight and brilliant musicianship. What more could you want? 
Reviewer: Helen Brown