Babes in the Wood
Ray Spencer
Customs House, South Shields
(2006)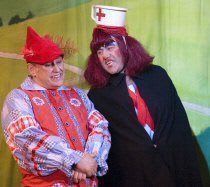 What can you say about the Customs House panto? It's totally home-grown; its two leads, Ray Spencer and Bob Stott, have been panto partners for more than thirty years; it casts purely local actors. In truth, it is a panto which is completely in tune with its audience. It's traditional and with an emphasis on fun. The easy relationship which Stott and Spencer have with the audience ensures that everyone is drawn into the world of the show right from the off
Babes in the Wood is no different. There's a buzz of excitement before the show begins which is multiplied enormously at the interval and yet again at the end. People come expecting good time and that's just what they have.
It would be so easy for the Customs House to fall into complacency and just repeat itself, but Spencer, although keeping to the tried and tested formula - and using tried and tested gags! - introduces just enough new ideas to prick our interest. Babes began with a very science fiction opening: a stunningly choreographed (and lit) routine from the South Tyneside Dance Workshop who, as always, excelled themselves throughout, followed by the appearance of the Tardis, out of which emerged, not the Doctor and Rose Tyler, but Dame Dotty and her son Tommy (Stott and Spencer respectively). But this was just the lead into the traditional story, traditionally told, complete with slosh scene, catchphrases and audience participation, and new variations on traditional gags, such as "The Tiddley Tree", here renamed (to the delight of the children in the audience) as "The Piddley Tree".
There are lots of jokes for the kids - including one very reminiscent of a certain beans scene in Blazing Saddles: I will say no more! - and some which sail right over the kids' heads but delight the adults.
There's an attractive thigh-slapping principal boy in Sonia Strong, a newcomer to the theatre, as Robin Hood, a villainous Sheriff of Nottingham whom everyone loved to hate (Darren Palmer), and his sidekick Gorse, played with enormous energy and comic timing by a regular of the Customs House panto (and BTG reviewer), Wayne Miller. The Merry Men are played with great versatility by Graham Overton - five different characters (including Little John on stilts), each with his own costume, make-up and voice - and each very funny. And, of course, we have the principal girl, Maid Marion, played by Victoria Elliott: sweet, of course, but with more edge than is usual in the part - and all the better for that. If I have one complaint about the show, it's that it didn't make enough use of her superb singing voice.
And we must not forget the two Babes themselves, played in this performance by two eight-year olds, Richard Noble and Erin Towers-Burns, who were very definite scene-stealers. Erin, I learned afterwards, had a loose tooth during the first half which came out - in a welter of blood! - in the interval, but you would never have thought it. A regular little trouper, and a star in the making to boot.
In comparison to other pantos in the region, the one at the Customs House is low budget, but it is so thoroughly imbued with the real spirit of pantomime that it sets the standards for the others. They will have to reach high!
Reviewer: Peter Lathan