Babes in Arms
Music by Richard Rogers; Lyrics by Lorenz Hart; Book by George Oppenheimer; Adapted and directed by Martin Connor
Chichester Festival Theatre
(2007)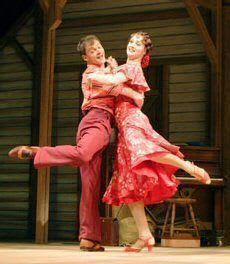 This is a musical famous for the words "Let's put on a show right here, in the barn" and, so far as the story goes, that's it. A group of young aspiring performers decide to write and produce their own show and, denied the use of the promised theatre, find a way to present it against all odds. There are instant love affairs between several of the main characters and many comedy moments, with all the characters being a little larger than life, but this is mainly a showcase for the gloriously memorable score with so many of the songs having been performed over the years by such legends as Frank Sinatra, Ella Fitzgerald and Peggy Lee.
Although a very successful show on Broadway, the original script by Rogers and Hart was "set too firmly in the American political arena for a British audience to appreciate" so it never transferred to the London stage, and in 1959 Oppenheimer's version was considered too lightweight to be credible. This production has taken elements from both and kept to the original score, with a couple of songs from other shows slipped in. Busby Berkley's 1939 film starring Judy Garland and Mickey Rooney was the first teaming of these two talented youngsters, leading to many more, and the tale has echoes of Garland's early life. Her parents were vaudeville performers, and her pushy mother was fiercely ambitious for her daughters, with Garland later describing her as "the real life Wicked Witch of the West".
Here we begin with a vaudeville act performed by Dan and Maizie La Mar (Tony Jackson and Catherine Terry) with their composer son Valentine (Mark McGee) reading their disparaging reviews and convinced that he and his friends could do so much better, appealing to a younger audience. In wanders Billie (Donna Steele in the part played by Garland) and although she doesn't achieve the charisma of Judy - a bit too much to ask of anyone - she comes into her own with "The Lady is a Tramp", defiantly defending her life as a hobo and finally, for me, making sense of the word 'tramp'.
This production seems to have taken its inspiration from many sources, from the silent film era to the sixties classic television comedy Rowan and Martin's Laugh-In, and even Bill Deamer's fabulous choreography appears to have a little of the style of Bob Fosse, but certainly not a copy. It is totally his own, and the dance sequences are a dream – literally in the ballet sequence where all the youngsters dream of success, fame and fortune to the tune "Imagine" - while the tap numbers are fast, furious and fun, and performed faultlessly with an infectious enthusiasm which had the audience on its feet and cheering for the razzle-dazzle final number "Johnny One Note".
A very talented Sophia Ragavelas is former child star Baby Rose Owen, rather similar to Bonnie Langford. There is an amusingly entertaining love-hate relationship between Gus (Matthew Hart, who reminded me of Lee Evans) and Dolores - Kay Murphy who didn't remind me of anyone except a great performer who is 'going to be somebody, someday'.
Director Seymour is played by Rolf Saxon, constantly giving helpful advice to the performers: "You can't leave footprints in the sands of time by sitting down". Then – the pièce-de-resistance - "a loving mother who will kill to make her daughter a star, whether she likes it or not". This is Judy Garland's daughter Lorna Luft – a link with the past, and proving that she is her mother's daughter with a great rendition of "You took Advantage of Me", just stopping short of the 'bump and grind' and which had Seymour totally mesmerised.
Clichéd, slightly corny – but great entertainment superbly performed with musical director Mark Warman seemingly thoroughly enjoying himself too.
Reviewer: Sheila Connor