Baby Wants Candy: The Completely Improvised Full Band Musical

Baby Wants Candy
Assembly George Square Studios
–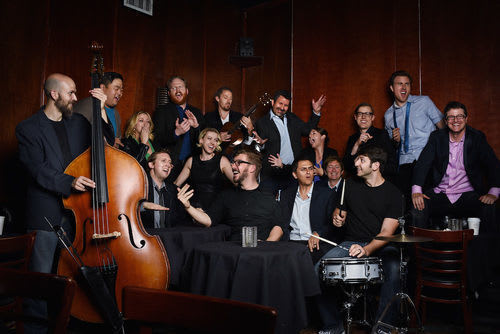 Fringe favourite Baby Wants Candy is one of the longest running improvisation troupes and is becoming a must-see institution at the Edinburgh Fringe.
The fantastic four-piece band and a highly talented cast of performers take suggestions from the audience for a title for this evening's musical.
Each performance is unique with previous hits being Trump goes to Hogwood and Jesus Christ Ubercar.
On the evening I went, the capacity audience suggested Schizophrenic Octopus: a Shakespearian Love Story—it would appear the more bizarre the title the more the company likes it.
Our octopus turned out to be a baddie and is trapped in an aquarium. We met the young Christina betrothed to an 11-year-old boy. The scene where his father tried to explain sex was hilarious and brought a new meaning to peanut butter and kites.
What followed was a saucy sexual romp with appropriate Shakespearean language that became more and more raucous.
You have to admire the skill and dexterity of the cast of seven who have remarkable ability as improvisers; it's a joy to watch as they develop the plot.
It's also hilariously funny with music that perfectly matches the mood ranging from romantic ballads to rousing chorus numbers. You have to admire their sheer imagination and crazy choreography.
Even the band was enjoying the performance as they laughed at the insane antics of the cast who seemed to be enjoying themselves as much as the audience.
You have to wonder how on earth they manage to do it. I simply loved it as did the enthusiastic and appreciative audience.
Reviewer: Robin Strapp