The Bacchae
Euripides
Kneehigh Theatre
Bristol Old Vic
(2005)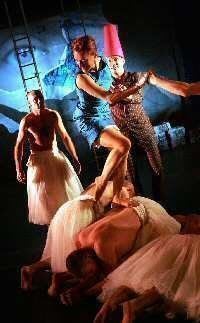 It's The Bacchae, Jim, but not as we know it. Those looking for the sort of orthodox staging of Euripides' classic afforded by Sir Peter Hall at the National Theatre a few years back are best directed elsewhere. However, if men in tutus, silly songs and knockabout farce floats your boat, then The Bacchae, as filtered through the bizarre lens of Kneehigh Theatre and award-winning director Emma Rice, is definitely for you.
I have to say it is winningly done, albeit that this Bacchae has precious little to do with the play proper. Its relationship with Euripides' work is that of the Reduced Shakespeare Company's oeuvre to Shakespeare, Ali G to Chris Morris, Tom & Jerry Kids to the work of Fred Quimby, The Alarm to The Clash. Which is all fine and dandy, except that Kneehigh attempt to have it both ways, sending up the story rotten – Tiresias bears more than a passing resemblance to Charles Hawtrey - until the final few scenes when the company tries to switch into high tragedy.
The production opens on a bare recessed stage above which tutus hang. Enter the Bacchae - in Euripides' play, women - here played by men. However, while the Bacchae of Euripides are frenzied, abandoned, in thrall to the spirit of Dionysus, here they somewhat self-consciously don tutus before prancing around, cutting up sheets of newspaper to produce paper trees. What really lifts the production, which at times can feel like a student revue, is the "rollicking" musical accompaniment which is provided both by dedicated musicians and the actors themselves.
If you thought Domestos was a Greek island and Zeus was that American bloke who wrote The Cat in the Hat, don't worry. The Bacchae helpfully, with the aid of a flipchart, provide an idiot's guide to Greek myth and the origins of Dionysus, half-human son of Zeus, who has come to his birthplace of Thebes where his cousin King Pentheus rules with a rod of iron. Dionysus demands that people worship him. Pentheus though will have none of it, refusing to recognise the stranger as a god. Given that Dionysus sports golden high heeled shoes (in which he later executes a stunning squat leap on to a table) and a large red fez, one has some sympathy.
Pentheus though, wants order. "A king must know his boundaries," he tells Dionysus, "otherwise he's lost". Dionysus, however, is here to tell him he must abandon certainty, self-control, be possessed. The stage is set for tragedy, except, of course, that it isn't. How could it be when the Bacchae orchestrate an audience singalong to Dionysian abandonment that runs: "What does it matter/Hey, pack up your bags, drop your pants/Only then will you know"? Only the churlish would deny that Kneehigh know how to hold a party but the change in mood to the tragedy of Euripides' original play jars. The climax is striking enough, though the bacchanalian scenes have the chasteness of Hollywood Sodom and Gomorrah, with Eva Magyar as Agave, bare-breasted and blood-smeared, holding the gory head of her son, achieving menace and pathos.
It is the final image though which lingers in the mind. Dionysus, resplendent all in white, hangs above the carnage he has wrought, implacable and pitiless, admonishing the Queen and her people, "Better you had never been born." Euripides would have approved.
This production has been reviewed by J D Atkinson, David Chadderton and Kevin Catchpole
Reviewer: Pete Wood