Backgammon for Beginners

So So Circus Theatre
The Corn Exchange Newbury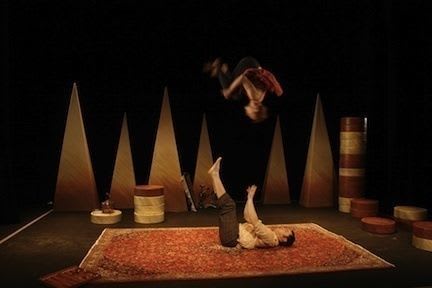 Backgammon for Beginners is a beguiling fusion of storytelling, music and the most exquisite, impressive and skilful acrobatics performed by So and So Circus Theatre.
Its premise is based on a traditional Persian saying used to start a story, "Yeki bood, yeki nabood" which translates as, " there once was someone, there once wasn't someone."
It is a story told from three different perspectives with the three performers each having a contrasting version of the narrative and raises questions about memory, truthfulness and skewed family legends.
It begins with the central character, Rashan, arriving in London in the 1970s with a fake leather grey suitcase—or was it blue? There are so many questions posed with contradictory answers.
He marries and has children, or were they illegitimate? He stayed with his brother, or was it his sister or in a bedsit that was so small he could touch all the walls from his bed? He brought nothing but the family's rug, or was it a teapot?
It is an intriguing tale brimful of truths and lies, but one thing is certain: he had a passion and love for backgammon.
This theme is echoed in Sue Mayer's impressive set design of a backgammon board with huge checkers that become chairs and tables and large triangular structures representing towns and mountains dramatically lit by Nick Flintoff.
Kaveh Rahnama is outstanding as the central character. His athletic skills are breathtaking and, together with the highly talented Lauren Hendry, he performs some stunning acrobatic acts that express their relationship.
The opening game of backgammon is a seductive, sensual and powerful visual expression of lovemaking.
Roshi Nasehi's music and singing provides a rich commentary on the lives of the people in Iran and the two characters, often sung in Farsi. She also helps to relate the story.
But you really have to admire the sheer skill of Kaveh and Lauren's physical performance that director Mish Weaver has deftly woven into the plot.
The choreography is truly awesome—not a word I would normally use, but when Hendry's energetic leap lands on Rahnama's upturned feet you could hear the intake of breath from the audience.
Both performers have complete trust in each other as they express the tensions and relationships through shifts of balance and in one incredible scene Rahnama balances Hendry on his head as if the whole pressures of the world were on him.
This is a striking production: challenging, exhilarating and superbly performed.
Reviewer: Robin Strapp