The Backroom
Adrian Pagan
Good Night Out Presents
Cock Tavern Theatre
(2009)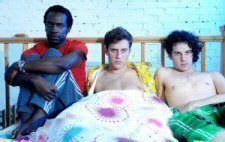 The late Adrian Pagan's titular backroom is a squalid den of discharge, tangled emotion and mouthwash. In the changing room of an Earls Court brothel, six rent-boys and their Madam unfurl a virulent comedy about coming-out, coming-down, coming-of-age and, well, coming.
Good Night Out Presents have commandeered the intimate space above the Cock and Tavern pub in Kilburn. Here we are crudely introduced to the underbelly of gay brothel life. Clients include Nipples Peter and a right-wing MP whose phallus resembles "a slug wearing a polo-neck". The office mantra, revealing something of narcissism and abandonment, is "touch me anywhere - but don't touch my hair!" Couples scrub down in a grimy bathtub and lovers fondle in a single bed whose springs died many bare moons ago.
There is much going on, off, up and down here, but little of comic or dramatic substance beneath the play's flashy and entertaining underpants.
As new-boy Charlie (Daniel Sharman), straight out of Harrow, adjusts to his new digs (though he's probably seen it all before at school) and struggles with angst, anger and shame, the studious Sandy (Miles Mlambo) takes him under a lustful wing. Their relationship forms the play's chief arc, although a web of sub-plots surround it: Madam Gary's fling with a footballer; Paul's trouble keeping up with child benefit payments; cowboy body-builder Dallas' bullish designs to climb to the top of the pegging/bedding order.
The Backroom offers much observation, cynicism and celebration - a life time's worth - but perhaps it is this wealth, ironically and topically, that sinks the play a little as a theatrical force.
There is something too squeaky and harmless about the central protagonists, Sandy and Charlie, whose conversations have the tone and urgency of prefects discussing common room modifications. There seems little at stake, little of urgency, and this restricts the amount of pathos or drama that they can conjure. Their performances, certainly, are bold and assured, but one of the two needs a more barbed and ferocious presence, so to give the relationship vitality and credibility.
Pagan's occasional political quips about New Labour conservatism or capitalist markets are not deft, particularly coming, as they invariably do, from muscleman Dallas. The political points are not developed enough to form a kind of interrogation or position, and as such jar against the tone of the piece, which is mostly crude, pun-happy and emotional rather than political.
Gareth Corke's direction might also be flagged up: some casting decisions limited the play's punch; the modernization of cultural references was unnecessary and inconsistent; the dance and mime sequences (often to Kylie) stalled rather than furthered the narrative; and Madam Gary's way of holding himself as if both arms were in plaster (perhaps it was the tight trousers) did not suit a man who shouts as much as he. Aside from these quibbles, Corke manages this homo-hot-pot capably, measuring theatrics and poignancy well.
In a crazed finale resembling a sit-comic rendering of a Die Hard movie, ex-army man Paul holds Gary at knifepoint, aggrieved by the warts on his face and the lack of wad in his pocket. Gary's staged heart-attack provides temporary relief as Paul makes off through the window (and onto the roof of the adjoining laundrette) just as the police arrive. The brothel still being an illegal site, and the authorities still being fascist demons bent on curbing gay exchange (at least that is how they are sketched here), the entire staff make the considered decision to bolt. All but one: fool-guy Dallas, absent during the preceding mêlée, enters the scene clad in briefs smaller than the GDP of the Shetland Islands.
Until April 11th
Reviewer: Ben Aitken