Back to the Yurt
Six short plays by Emma Reeves, Cath Tregenna, Greg Glover, Emily Steel, Ross Southard and Duncan McMillan
Dirty Protest
The Milgi, Cardiff
(2009)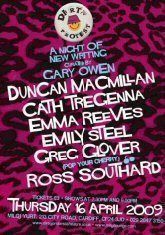 The Milgi is a cosy bar on Cardiff's City Road, filled to the funkily-decorated rafters with what Dirty Protest have termed "the MySpace generation". Squeeze your way through and you find yourself in a yurt filling the garden terrace. Scattered with floor cushions, stools and the odd armchair, this is Dirty Protest's home turf. During the spring and summer months, it is here that the company throw out challenges to five established stage and screen writers and one newcomer, the affectionately labeled "Cherry Popper".
For the price of a pint, as many as can perch on the arm of a chair, or fold themselves up neatly onto a floor cushion, gather to watch these six short plays, each exploring the same theme, which on this occasion was Heartache.
The evening is introduced by guest curator Gary Owen, himself an award winning playwright with an astonishing list of current projects. He's currently under commission to write new plays for the Sherman Cymru; Watford Palace; Hampstead Theatre and CTC; and yet another for Forest Forge. At the same time he's also working on the script for the TV series The Fabulous Baker Boys.
It's immediately evident that Dirty Protest have a very loyal band of devotees. This was a large crowd (too large in fact - many arrive in time for the first performance at 7.30 and have to wait in the bar for the second at 9pm). The atmosphere is irresistible: there's a camaraderie here; a palpable sense of anticipation. This crowd knew they were in for a treat.
The company's growing reputation is attracting top class writers and actors to contribute (without fee) to the yurt do's.
Emma Reeves (Carrie's War) opens with Psycho's Tale, a disturbing and compelling story of obsessive love.
Torchwood writer, Cath Tregenna presents Cut Down, a brilliantly observed monologue about a woman's love affair with alcohol and her acerbic take on the AA's twelve steps.
Greg Glover's two-hander, Fish, lightens the mood with a tale of one man's love of his fish and of his wife's struggle to come to terms with losing her husband's affections to her garden pond.
Emily Steel's X looks at love in the secret world of Second World War encrypters, where a young WREN from Wales finds herself the object of an English Officer's terribly discreet and understated affections.
Cherry Popper Ross Southard presents the delightfully funny The Date, where a young couple endure one of the most unsuccessful dinner dates of all time, from which neither of them quite know how to extricate themselves.
Finally, Duncan McMillan, writer-in-residence at Paines Plough, ends the night with the beautifully moving Sleeve Notes, a young man's recollection of his childhood efforts to prevent his mother's repeated suicide attempts, which involved compiling a list of "Every Brilliant Thing" in life so that he could give her many reasons to live. The simplicity of the idea heightens the monologue's emotional impact and it's a great way to end a great night. (To read the list for yourself, join Facebook group Every Brilliant Thing.)
Despite the informal atmosphere, Dirty Protest here maintain their trademark high standards: the actors, Jenny Livsey, Shekira Johnson and Gareth Milton, give faultless performances. Jenny Livsey excels in Tregenna's monologue, Cut Down, Gareth Milton shows great comic timing in The Date and in Fish, and Shekira Johnson is delightful in X.
With top quality writing, directing and performing in a convivial atmosphere, this is an evening well worth experiencing and will be the best £3 you'll ever spend.
Reviewer: Allison Vale