Bacon
Sophie Swithinbank
Izzy Hayden for Salt Lick Productions Limited in association with Neil McPherson for the Finborough Theatre
Finborough Theatre
–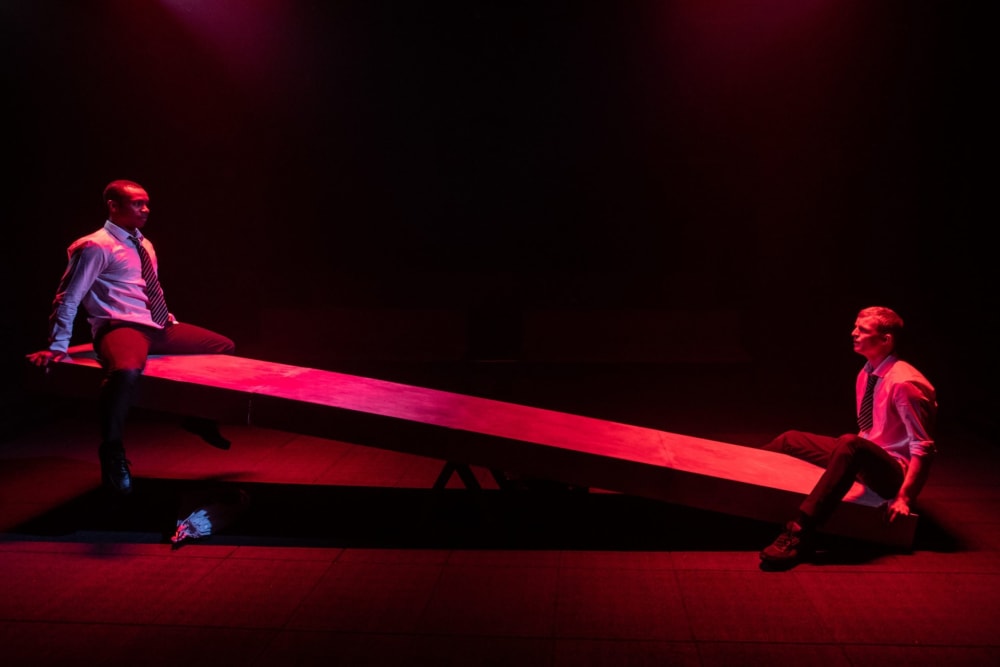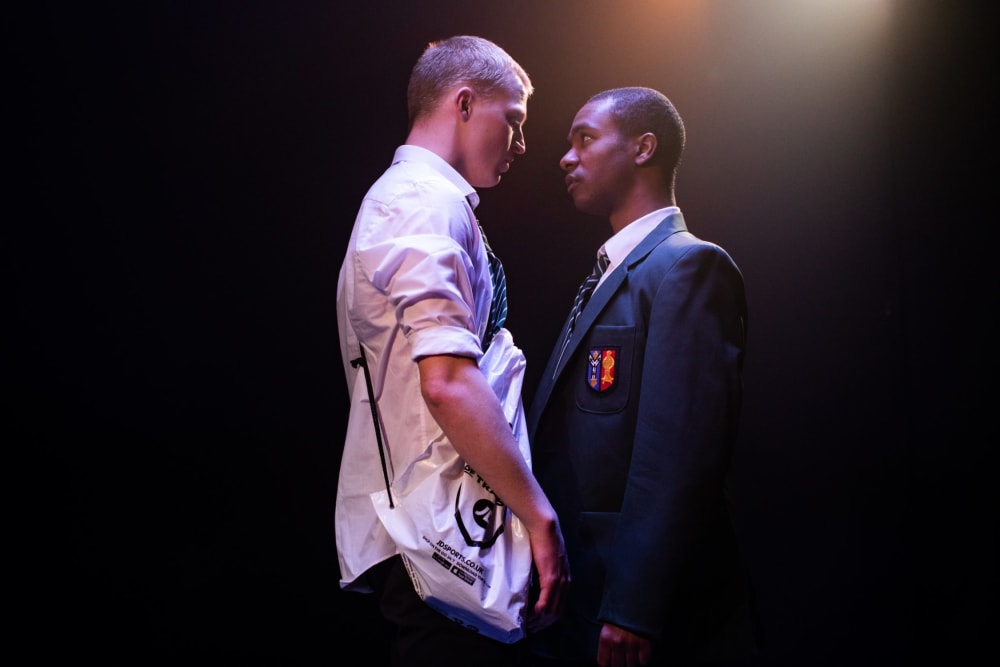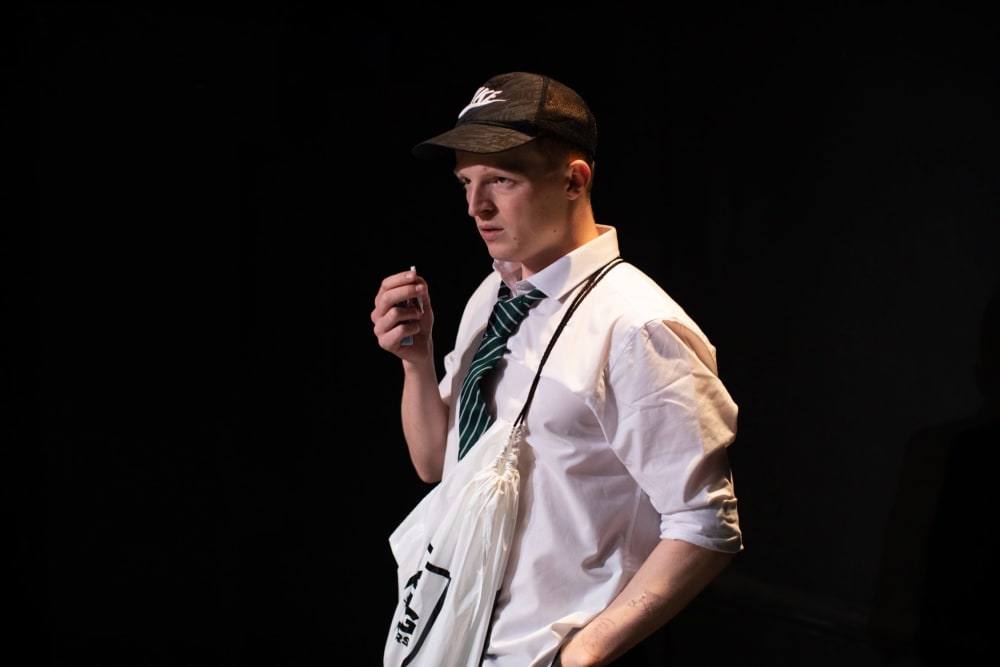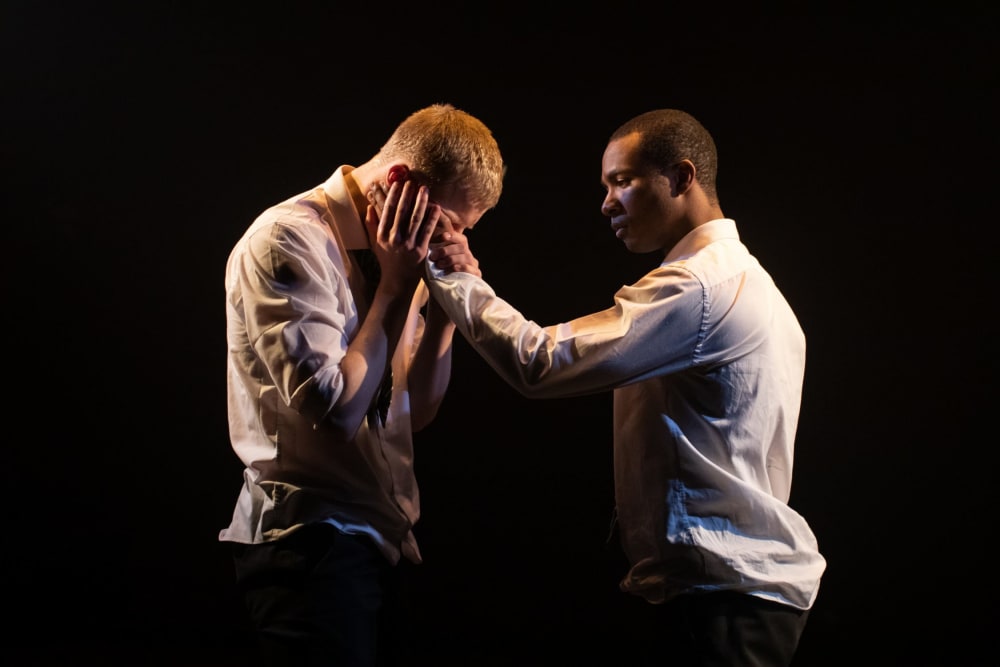 Mark had some problems at his old school, so his mum has found him a new one. At break on his first day with year 10, he is wary and wondering whether he will find friends here for it seems even worse than his old one: "full of nutters who have probably got knives in their socks and guns in their pockets." It's then that he realises another lad is looking at him in a way that he finds disturbing.
Both boys seem to be loners, but while Mark is a good student, well-behaved and conforming, Darren is a mixed up bully, bragging about sex with girls and exotic holidays, though they are only invention. They form a strange, toxic friendship. What drives it? Mark suggests it is because he buys Darren's lunches, Darren claims it is because Mark needs his protection from other bullies.
Of course, it is something much deeper. Mark may understand what is happening but doesn't know how to handle it, Darren's confusion sparks frustration and anger. It is there lies the danger—but to tell more would be a succession of spoilers.
Sophie Swithinbank starts her play four years later when Darren's unexpected arrival in the café where Mark is working prompts Mark into sharing his story: "not just my story. It's his story too."
With scenes shifting between now and their schooldays, it presents a sensitive and dramatic portrayal of insecure masculinity and power play in a relationship that teeters between incipient bromance and confrontation.
Bacon is played on a traverse stage with Natalie Johnson's set, which consists of a giant seesaw. That may seem a rather obvious metaphor for the constantly changing balance between the boys, but director Matthew Iliffe skilfully uses it to create intimate images and add to the action. He gets beautiful teamwork from his actors, vibrant in the Finborough's demanding proximity, while Ryan Joseph Stafford's lighting and Mwen's sound design subtly underscore the play's tension, but he also lets humour occasionally bubble through.
William Robinson as Darren, raised by a tough father and hiding his failures behind boastful swagger, lets us see beyond the bully to his own hurt. Mark is exactly the kind of boy who, since he can't emulate him, he would make fun of, so what draws him to him?
Mark, neatly turned out in his school blazer, may look well adjusted but he too doesn't fit in. Why he left his previous school isn't explained. He is finding his new classmates uncouth and Darren… yet. From the start, Mark speaks directly to the audience and playing him, Corey Montague-Sholey lets them share Mark's fascination with Darren and his frustration at the barriers between them. The consequences are serious; though things seem set for a romantic ending, Bacon is heart-stoppingly moving in a different way.
These are two actors delivering painfully real performances in a fascinating piece of theatre.
Reviewer: Howard Loxton