Bacon Knees and Sausage Fingers
Gary Kitching and Steve Byron
Alphabetti in partnership with Gary Kitching and Co
Alphabetti Theatre, Newcastle
–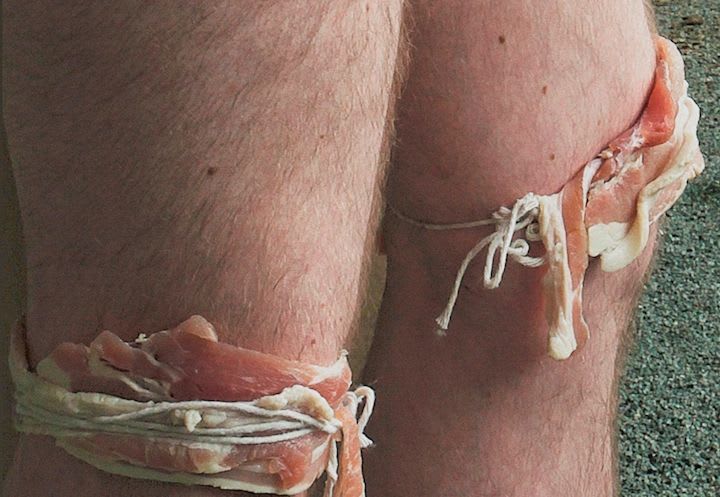 The publicity for Bacon Knees and Sausage Fingers calls it a "humorous comment on how society treats those who are different," but that, in fact, is a bit misleading.
Yes, these two characters, the guy who wraps bacon round his knees to encourage dogs to race him (played by Gary Kitching) and the vastly overweight ex-baker who's coming to terms with the death of his unsupportive father (Steve Byron), are very definitely social outsiders—"oddballs" might be a better term—but this play doesn't have us, the audience, standing outside, looking at their situation and tut-tutting our disapproval. Not at all.
It is, in fact, much more subtle and devastating (if that isn't an oxymoron) than that, for we find them funny, particularly Bacon Knees whose relentlessly positive, even cheerful interpretation of the nastinesses that happen to him (and some are really very nasty) is quite hilarious.
We're not so sure about Sausage Fingers. There's something a bit… well, possibly even sinister about him, but we take our cue from our reaction to Bacon Knees and we laugh.
Of course what we are doing is making ourselves complicit in society's treatment of these men so, as that realisation becomes clearer, that laughter becomes more hollow, more guilty, although (and this is one of the clever things about the play) it's still there.
Structurally the play is decidedly unusual, even odd. At first—with the critic's instinct to pigeon-hole—I thought "absurdist" but actually it isn't, far from it. The structure makes perfect sense. However I don't intend to say why, because I don't want to deprive people who haven't seen the piece yet of the pleasure of working it out!
Director Ali Pritchard keeps it all simple, reflecting the essential simplicity (in the best sense) of these two men, with a set (designed by James Pickering) that consists of two chairs, a video screen showing, variously, words and pictures of dogs (and a stuffed capuchin monkey—does that not shout "absurdist"?)—and a semi-abstract version of the Swing Bridge in Newcastle where the action takes place.
Just an hour long, it packs quite a punch, taking the audience from laughter to guilt and perhaps a few tears. Yet again, kudos to Alphabetti for inspiring (the play first saw daylight at a 24-hour writing challenge), nurturing and developing it and using it to go on to inspire others, for from 12 to 15 October the venue will be presenting two short plays written in response to Bacon Knees and Sausage Fingers.
Since its move to its current premises, Alphabetti has become an essential part of the region's theatre ecology. Long may it continue.
Reviewer: Peter Lathan