Bad Shakespeare
Shakespeare and Oklahoma City University
OCS and Fringe University
Greenside @ Nicolson Square
–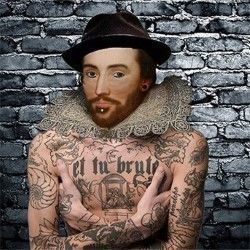 Bad Shakespeare does not refer to Shakespeare or the actors but rather to the characters of the characters.
This group of students are examining some of Shakespeare's notorious" villains". This is a nature v nurture examination. The troupe is more than able. But the actors have presented their villains out of context.
All actors must fall in love with their characters. For that reason it is important to understand why the characters are "bad" without excusing.
If you know that Richard III is a King-in-waiting: deformed and bullied from birth, compared to his glorious brother, Clarence all his life. They are back from battle, frolicking. And no one is watching the country. Except Richard, who was again not invited to the party.
Plots has he laid. And now, finally, with a cunning success in sight, he is dedicated to bringing down father, brother and opponents all who are distracted and drunk with recent successes. His time has come.
What would this talented troupe do, taking one step further, with this approach? Well, it probably wouldn't make as good a production. They make it look easy, understandable, fun. Kudos.
Reviewer: Catherine Lamm