Baddies: The Musical
Book and lyrics by Nancy Harris, music and lyrics by Marc Teitler, Story by Nancy Harris and Marc Teitler
Unicorn Theatre
–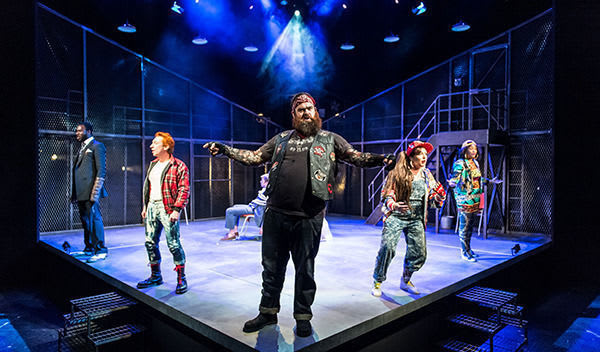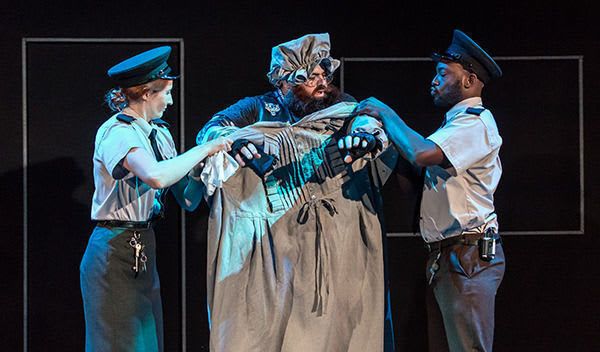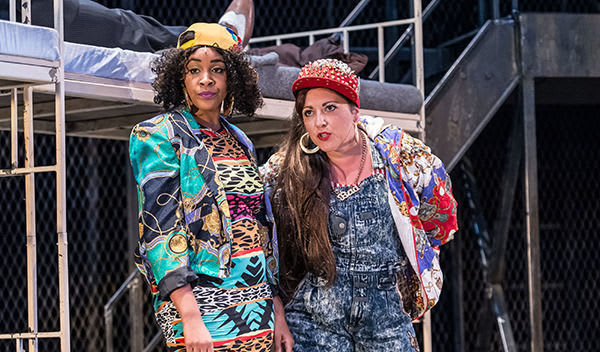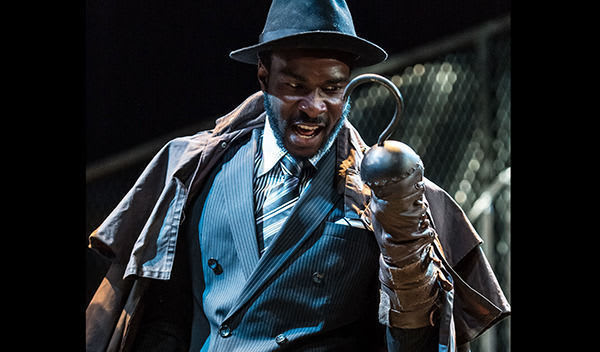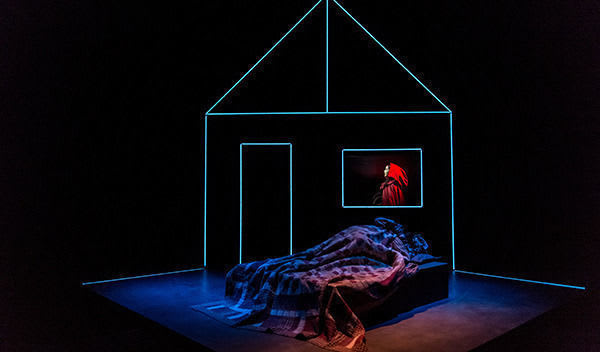 Tall tree trunks soar up to the flies masking the shadowy stage where a house is outlined in green light. It gets darker and figure swiftly moves through the auditorium into the wood.
It's Red Riding Hood on her way to visit her grandma and as the trees disappear there's a swirl of coverlet behind them and a bed appears, grandma asleep in it. Except of course it isn't grandma but the Big Bad Wolf, the first of our Baddies, but just as you think you are starting their story and before he can gobble down his dinner they are interrupted and BBW is arrested!
This is a musical tale of good versus evil but who are the goodies and who are the real baddies?
BBW soon finds he's in prison, joining the two Ugly Sisters, Captain Hook and a wee Scots laddie who turns out to be Rumpelstiltskin. They've already been rounded up by the Fairytale Council. But all is not lost: lovely Cinderella and brave Peter Pan are soon on the scene ready to help them.
This is a highly original, fast-moving show (two hours with an interval) that is aimed at anyone over six. It's full of colour, good songs (with a great band) and lots of laughter.
Director Purni Morell has done a good job and James Button's designs keep it fast-moving and his colourful costumes ensuring that even the prison where so much of it happens looks lively. Its an intriguing script that offers interest for grown-ups while keeping things clear for the youngest in the audience and it is served by a cast that seems perfect.
Dean Nolan's Wolf is big and bouncy, a bearded, overgrown puppy who can suddenly turn terrifying; the audience love him. This Captain Hook used to be lawyer before he turned pirate; Miles Yekinni makes him an elegant gentleman in his pinstripe.
Claire Sundin and Kelly Agbowu are a feisty pair of Ugly Sisters with a flair for fashion: they make their own colourful clothes and, though put upon, put upon, David McKay's Rumpelstiltskin is a mathematical genius full of Gorbals vitality even if he does let one off occasionally. In contrast, the beautifully turned out goodies, Kathy Rose O'Brien's Cinderella and Christian Roe's corporate Peter Pan, probably moonlight on Made in Chelsea.
It isn't often you can share a show with a house full of people who enjoy it so much. I saw it with a daytime audience with a lot of school parties. Apart from a line from Peter Pan, there is little direct address to the audience and no suggestion of pantomime-style roping in of audience involvement, but without any cast cajoling to rally reaction this is a show that has the whole theatre in spontaneous enthusiastic uproar, whether booing Cinderella or cheering for their heroes. Take your kids and enjoy it yourself.
Reviewer: Howard Loxton