Baddies
Robert Walker
Regency Rep
theSpace on the Mile
–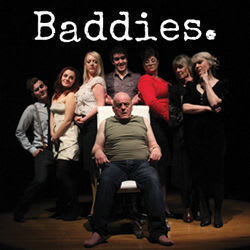 What constitutes a good villain? or a bad villain? What makes a baddie, a baddie? Well that's the quesiton posed in regent Rep's two-act play Baddies.
Focussing on the first production read through for a major new blockbuster movie, the well-intentioned but typecast method actor Sergio wants his villain character to be more human. Hampering this are the vying egos of his sex-addicted leading man, the grumpy producer, ingenue love interest and the unexpected arrival of the ex-convict upon whom his character is based.
What follows is a jocular and capably performed take on the simplified nature of characterisation in modern films, with a heavy leaning on Hollywood's tendency to steer towards archetypes instead of challenging an audience. Given that there's a lot of ground that could be covered in this topic, it's a surprise that the play ends up being a tad aimless, and although it tries to act in creating a message for the importance of meaning and substance over spectacle, it falls into its own trap.
The characters spend half the play decrying the one-note stereotyping of characters in movies and yet themselves are simple, one-note stereotypes, particularly the stereotypical Hollywood producer whose every line defies normal logic and thought, with only Sergio and the convict feeling as if they have anything more than surface sketching.
The other ever-present feeling with Baddies is almost as if this play has been hugely truncated, as the movement from the first act to the final short denouement feels abrupt and disconnected, almost as if there should have been a lot more to it that ended up ironically being taken out in the edit.
Reviewer: Graeme Strachan