The Baker's Wife
Book by Joseph Stein, music & lyrics by Stephen Schwartz, based on the film La Femme du Boulanger by Marcel Pagnol & Jean Giono
Union Theatre
(2011)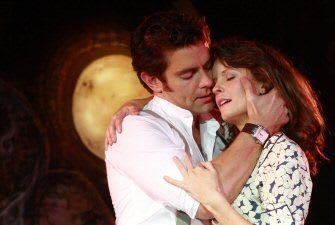 Based on the Pagnol movie, which itself was based on a novel by Giono, The Baker's Wife is a delightful picture of life in a French village where everyone seems to be in an age-old feud with someone else, where the local Marquis, who is also Mayor, keeps a harem of young beauties and where everyone is distraught because they have lost their baker..
It is introduced by Denise, who runs the cafe with her husband and fills us in on all the details. She is played by Ricky Butt, who wins the audience over from the start with an engaging voice and a lively characterisation with which she could easily steal the show if she were not such a good company player.
When, at last, a new baker does arrive, it is Aimable Castagnet, a gentle older man with a personality to match his name, though to the villagers' surprise he says he doesn't drink. Michael Matus achieves the difficult task of making him tired and no catch to look at and at the same time presenting energy and likeability. He also knows how to deliver a number. The village is delighted by his baking - there is a delicious number welcoming its aroma and celebrating its variety but they are even more astounded to discover that this old fellow has a young and very attractive wife.
Lisa Stokke gives a charming innocence to that young wife, Geneviève, though she is not so naive as the villagers may think. She has already had an affair with a married man and escaped from that into the comfortable security of marriage to Amiable whom she loves, though is not in love with. It is a very sincere performance and particularly touching as she takes a hard look at Matthew Good game's good-looking, romantic Dominique who has fallen in love with her, has second thoughts about running away with him and sings "Where is the Warmth?" However a little more projection in some of her numbers would help get their meaning over, something that will probably come as the show runs in.
Mark Turnbull's hedonistic Marquis is another strong performance, paired in conflict with the clerical conformism of Karl Moffatt's rather saturnine Curé. But this is a strong cast throughout and director Michael Strassen, using the whole space of the theatre so that many entrances are through the audience, keeps things spirited and lively or closely focused for more intimate moments, framing things with a degree of formality that helps things spring from stillness into life.
The staging is very simple: a few tables and some sacks of grain in front a wall painted with a collage of faces. Scene changes become part of the action as tables are moved around by the actors and numbers are lightly but effectively choreographed to support the number, not dance showpieces.
Musical director Chris Mundy has done a marvellous job in drawing such precision and blended harmony from the company and with Colin Clark on cello produces a sound that feels like a full pit orchestra. Bravo!
When The Baker's Wife premiered in 1976 with a six month tour of the US, it failed to reach Broadway. Stein and Schwartz weren't happy with what had happened to it on tour and were actually against taking it to Broadway. They were much happier with Trevor Nunn's 1989 London production, for which they wrote new songs, but that ran for only a couple of months despite critical plaudits. If it was anything like as delightful as the Union's version (which has had some revisions) I'm not surprised they liked it; why didn't the public support it? Were people put off because it finally champions warmth and loyalty over romance and sexual excitement?
The list of numbers in the Union's production doesn't quite match that at the Phoenix and there have been some further revisions but I don't think major changes. If in the seventies it just didn't fit the contemporary zeitgeist let's hope it does now, for this production deserves much more than its presently scheduled run. Meanwhile grab a ticket if you can.
"The Baker's Wife" runs at the Union Theatre until 15th October 2011
Reviewer: Howard Loxton