Balé de Rua
Cia de Dança Balé de Rua
Bite09
Barbican Theatre
(2008)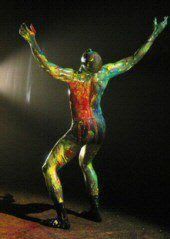 This is a company that began as amateurs in Uberlândia, a city of half a million people in the Minas Gerais state some 400 miles northwest of Rio de Janeiro and 300 miles from Brazilia. It was formed by artistic director Fernando Narduchi and dancers Antônio Garcia and José Marciel Silva in 1992, drawing its personnel from the local working community. They turned professional in 2000, burst on to the international scene at the Lyon Biennale de la Danse in 2002 and had a great success in Edinburgh last year.
There is an appropriately urban feel to their work. With their roots in street dance what they present is a combination of break dance, hip-hop and body popping to which they add the Brazilian dash of capoeira, and samba and the colourful exuberance of carnival.
It is a company of individuals who coalesce into a corps. Sometimes Garcia's choreography has the whole company in unison, sometimes it passes from dancer to dancer and there is usually an overlap between the numbers so that a dancer left on stage introduces the beginning of the next, making a sequence that is non-stop display of kinetic energy for an hour and a quarter, except for the occasional hiatus for dramatic effect. Lighting is used to add theatricality, with individual dancers set in pools of light to show off their skills but rarely lit so that you can see the face, thus showing us a dancer rather than a person. Only at the beginning and the end do you see the individuals within the group as separate personalities.
For such a physical show in which bare limbs and torsos are so often on display it is strangely unerotic. There is only one woman in this company: and she is usually dressed in the same way as the men and dancing the same steps. Though in one sequence men do appear to be competing for her attention there is nothing sexual about it and certainly none of the homoerotic content that is frequent in classical and modern dance largely male companies. There are no duets, no pas de trois - this is not dance about personal relationships. These performers are either dancing all together or alone and the emphasis is on their skills and talent not exploring a psychological interaction. That is not to say there is not emotion or a sort of story line, though for those without Portuguese to understand the lyrics of the songs and snatches of spoken word it may be difficult to follow.
The whole presentation is a celebration of the history and culture of black Brazilians, brought by the Portuguese as slaves from Africa - 350 years of slavery was only abolished in 1888 - and these things are poignantly expressed. It reflects the vitality of the street life from which these dancers come and from which they draw their skills, and celebrates the Candomblé and Catholic religions and the spirit guides of Umbanda, especially the Preto Velha, spirit of an old slave conjured by (literally) spitting colour over a dancer's body.
In one number which, if I interpret a programme clue correctly, is a celebration of the Virgin Mary, men turn themselves into women, donning long skirts and draping them over their heads. There is nothing camp or effeminate about it: they move with statuesque grace and demonstrate an almost balletic fluid porte de bras. In another episode, celebrating a Catholic religious festival, a shrouded figure of a saint is carried in and then revealed in the form of a gold man spinning upon his head. Don't ask me what it is supposed to mean. It is a display of skill not a sermon. Similarly, quite what an extended number with fluorescent flowers mounted on heads, chests, knees and elbows was all about I can't imagine. You couldn't see the dancers and it looked plain silly (silly, not funny!), though the sprouting of huge flowers all over the scaffold set was a delightful effect.
Although most of the music is recorded it is given a vibrant presence by live drumming - and there is one lovely moment when a percussionist does a backward moonwalk. With their infectious rhythms and engaging directness this company get the audience not only clapping along but singing along too, and at the curtain call they have them dancing in the aisles - well the Barbican does not actually have aisles but you know what I mean. But don't leave then: succeeding 'encore' curtain calls are well worth watching and at last there is sufficient light on stage to really see the dancers!
At the Barbican Theatre until 31st May 2009
Reviewer: Howard Loxton