Ballad of the Burning Star
Nir Paldi
Theatre Ad Infinitum
Battersea Arts Centre
–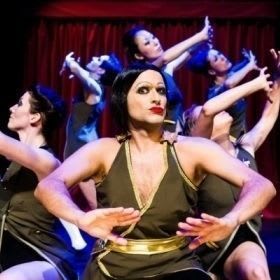 Ballad of the Burning Star is a daring political piece that's certainly not afraid to take risks. After all, not many productions announce the possibility of a terrorist attack before a show or search an unassuming audience member.
The multi-award winning Theatre Ad Infinitum takes a bold step to present the Israeli–Palestinian conflict like never before: a no-nonsense drag cabaret.
Writer, director and performer Nir Paldi is our host, Star. Armed with a sparkling cape, a one-man band, and a team of military-clad backing dancers, the regiment tell the story of a young boy growing up in Israel.
The unconventional set up is perfect for examining the hypocrisies and contradictions promulgated by the ruling classes, however lacks an air of intimacy at the Battersea Arts Centre.
Throughout the course of the evening, Star interjects to highlight critical moments of Jewish oppression as well as Israeli brutality toward Palestinians. Israeli-born Paldi takes no prisoners in portraying both sides of the debate and cleverly begins to take the form of a dictator before an emotional climax.
The ensemble works together flawlessly to create this hard-hitting piece that forces you to think about the future of Israel and Palestine long after you've left Battersea Arts Centre.
Reviewer: Sean Brooks