Ballet Black Double Bill: The Suit & A Dream Within A Midsummer Night's Dream
Choreography by Cathy Marston and Arthur Pita
Ballet Black
Barbican Theatre
–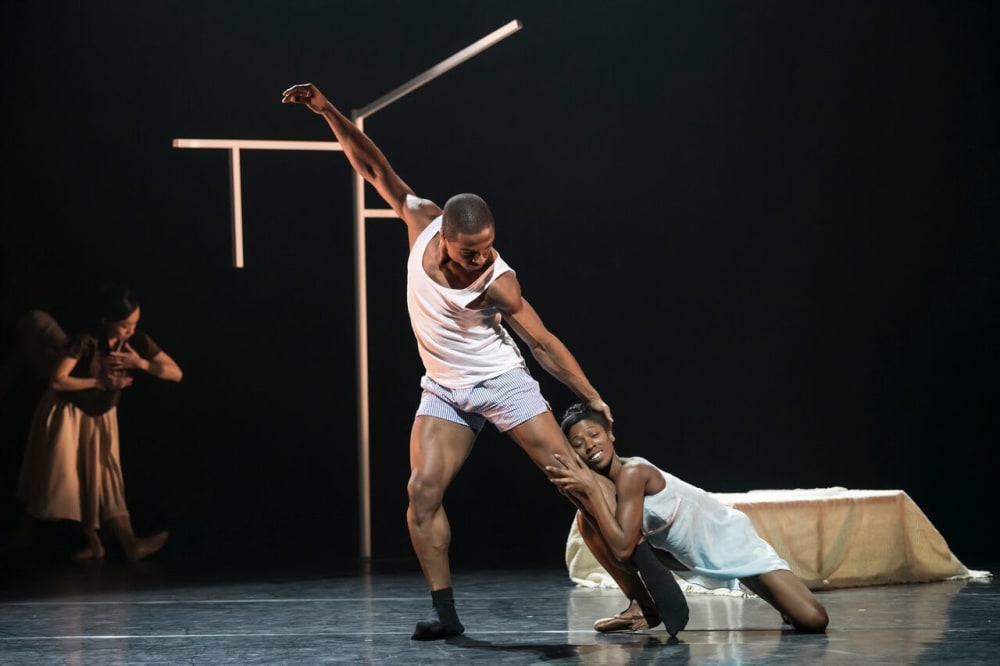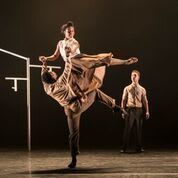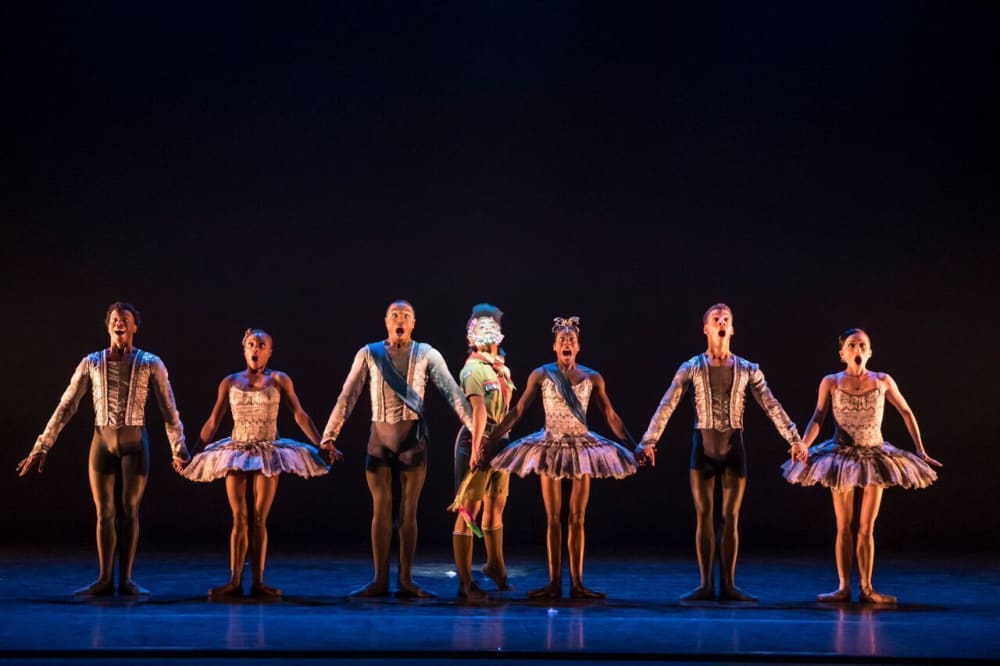 Ballet Black opens its seventeenth year with a double bill that is its first entirely of narrative ballets: Arthur Pita's established favourite A Dream Within a Midsummer Night's Dream and new work The Suit by Cathy Marston, co-commissioned by the Barbican.
The Suit is based on a short story by South African writer Can Themba (of which Peter Brook made a stage adaptation some years ago). It is a tale of a young man who leaves home without his briefcase and when he goes back to get it finds her with a lover who flees in his underwear leaving his suit behind which husband Philomen makes her treat as a live guest, accompanying them everywhere.
A minimal design to facilitate easy touring defines the home with skeletal white furniture and wooden angle posts with the cast dressed in tans, browns and ochres glowing in David Plater's warm lighting with José Alves' Philomen more formal in a blue suit and wife Matilda in blue too.
As Philemon gets up in the morning, the company become the wash basin, help the ablutions, replicate his and her actions as they stand in front of a mirror or represent pieces of furniture. They become the folk of Sophiatown as he journeys to work, helps an old lady cross a street, while Mthuthuzeli November as lover Simon makes love to Matilda.
It is as fresh and as lively as the water Philemon splashes his face with, attention split by the simultaneous action (you can't take it all in); then discovered infidelity turns everything darker. Philomen busies himself getting ready but when Cira Robinson's Matilda awakens she extends a long leg with slow elegance, a ravishing moment.
Cathy Marston makes a distinct difference between the display of married affection and illicit love making with dance that has a different edge from male choreographers' sex scenes and Cira Robinson makes this role hers with sensitive acting as well as elegant dancing.
This is a much clearer telling of the story that Brook's was, and more enjoyable, even though it ends tragically.
A Dream isn't a dance version of Shakespeare's comedy. Arthur Pita takes one element from that and plays variations upon it: Puck's mix-up of lovers.
It opens with two courting couples in tutus and tights dancing to a stately sarabande by Handel, all classical turnout and elegant execution, before Isabela Coracy's Puck turns up to halt the whole thing.
This Puck is a green-bearded boy scout flourishing an African flywhisk. I couldn't quite read his badges but he obviously had won one for magic which he performs with the help of his whisk, an assortment of silks, veils and some gold glitter dust (that sometimes gets snorted).
This is Puck's sport, he's not working to Oberon's instruction as he contrives contrary couplings, straight, gay and lesbian. Marie Astrid Mence's Hermia and Sayaka Ichikawa's Helena stop competing and become a happy hand-in-hand number; Ebony Thomas's Lysander and Mthuthuzeli November's Demetrius don't stand a chance with them but instead find each other. Puck gets José Alves' Oberon chasing one of them (more fitting than the Indian Boy Shakespeare has him stealing from Titania) and sets up Titania with ass-eared Bottom.
This isn't malicious, he's having fun and so are his victims. Mthuthuzeli November's Bottom isn't an uncouth monster but rather charming. Mthuthuzeli also pops up as Salvador Dali. What he is doing in Puck's wood escapes me, though he too was into metamorphosis, so perhaps he's at home there.
Puck's playful mischief kicks off to Eartha Kitt singing "Let's Do It" and there are a couple of numbers sung by Yma Sumac, "Lilac Wine" too for Oberon's infatuation—some of my favourite old songs—and Cira Robinson's Titania is paired with her beast to a leisurely Barbra Streisand rendering of "Bewitched, Bothered and Bewildered" that matches its indulgently romantic choreography.
You can't not like this celebration of romantic possibilities with its witty choreography that eventually resolves back into Handelian classicism. The company dance it with style and affection. It's a treat.
Reviewer: Howard Loxton