Ballet Shoes
Noel Streatfeild
London Children's Ballet
Peacock Theatre
–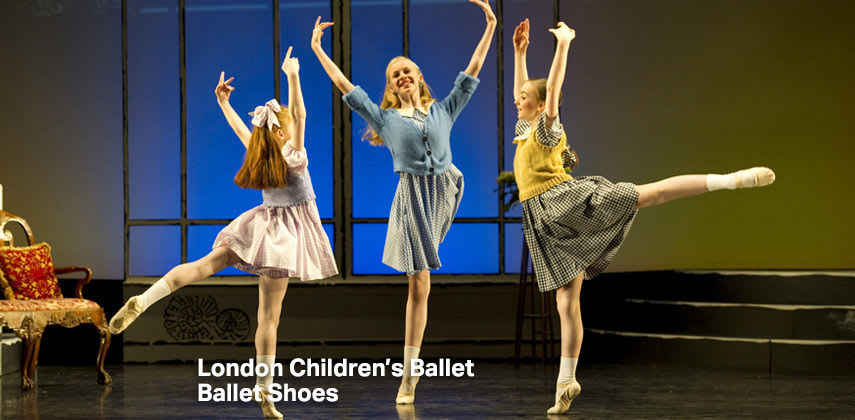 I still treasure my dog-eared copy of Noel Streatfeild's Ballet Shoes, a much-loved childhood fable where characters feel like family. So it's a relief that this revived ballet version, performed to mark the company's 25th anniversary, authentically distils the story into dance form, breathing new life into dear old friends.
London Children's Ballet offers 700 children between the ages of 9 and 16 the chance to audition and join the ballet company for a year. The 60 selected are given free training and the whole experience culminates in a live performance on a real theatre stage.
The results are remarkable. Hard work and passion must be the driving force behind such amazingly professional performances for a cast so young. The only telltale sign of the ballet not being performed by fully trained adults is that the children have not yet progressed onto pointe shoes, which, quite frankly, given their tender age, is a blessing.
Set in the 1930s, the evening turns the story of the three Fossil sisters, Pauline, Petrova and Posy, into dance movement joy. Pauline and Posy fantasise of fame and a life treading the boards, while Petrova is tomboy, a budding engineer and global explore who dreams of aeroplanes, not pointe shoes. It's no coincidence that like members of London Children's Ballet, each are chasing rainbows, looking for dreams to come true in the future.
The live score, commissioned specifically for the ballet by Raymond Warren, imbues the evening with such professionalism, echoed by the richly evocative sets, lighting (Mark Jonathan) and costumes (Charlie Camm, Kate Ford) transforming the children into an array of adults from housemaids to Hollywood celebrities. It's easy to forget that those dancing tonight are a cast of schoolchildren due to their attire, but mostly through properly invested dramatic interpretation that goes way beyond saccharine fare often associated with youth ballet shows. Here, the youngsters genuinely embody their characters making them as believable as anyone who'd just been through years of actor training.
Ruben Garcia puts in a charismatic turn as Puck with awe inspiring elevation and aplomb, while smiley, delightful Annalise Wainwright-Jones as Posy radiates such joy of performance and is magnetic to watch. The other two sisters, Pauline (Stella Chambaud, 11) and Petrova (Tilda Marriage Massey, 13) set the stage alight with beautifully executed energy. Though Chambaud as prodigiously brilliant Pauline is one to watch as she dances her way through her character's ups and downs with an ease way beyond her years. Such dramatic ability to transform from stargazing youngster to stroppy teenage celebrity renders her performance nothing short of brilliant.
The ballet is revived from Cathy Marston's original choreography by LCB alumna Ruth Brill, who originally starred in the Children's Ballet company production 18 years ago. Since then, Brill has become First Artist with the Birmingham Royal Ballet and has launched a successful choreographic career, adding a pleasant symmetry to this evening's show. It was my first London Children's Ballet and I will be waiting eagerly for the next production as well as watching out to see where such talented youngsters find themselves in a few years' time.
Reviewer: Rachel Nouchi