Ballet Black

Hackney Empire
(2009)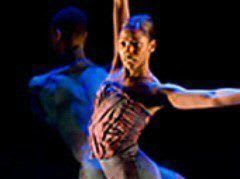 Ballet Black, playing their biggest venue yet, offered a varied and enjoyable programme for this stand alone performance at Hackney. It offered three of the works they danced at the Royal Opera House's Linbury Theatre earlier this year, along with two others to make a longer evening.
It opened with Antonia Franceschi's Kinderszenen, danced to composer Allen Shawn's Childhood Scenes, a playful piece that raised a joyous smile. The dancers give it a juvenile lightness while the choreography begins to suggest a growing awareness of adult attraction to the other gender as play moves into flirtation. It was danced against blacks instead of the abstract projections seen at Covent Garden but lushly lit.
Umdlalo kaSisi is composed and choreographed by Bawren Tavaziva, who uses a mixture of music, chants, grunts and spoken material to create his score. It starts off rather hieratically with very formal movement and is clearly influenced by his African background. The dancers enter huddled together with cloths draped over their heads, cloths which are later used as part of the choreography (costumes by Faith Caton). This appears to be a mourning piece but without being able to understand the text it looses much of its meaning. It is difficult to interpret the idea behind the choreography and appreciate its claimed celebration of life and community.
Liam Scarlett, who only graduated from the Royal Ballet School in 2005, is already establishing himself as a choreographer, with two works already for this company and others for the Royal Ballet. Instead of Hinterland, seen in the Linbury season, this programme offered Somente, a passionately playful duet for Jade Hale-Christofi and Sarah Kundi with Spanish flourishes danced to the guitar music of Rodrigo y Gabriela.
Martin Lawrence's Pendulum, to a score by Steve Reich, starts in silence before the beginning of a rhythmic pounding that feels like a slightly staggered heart-beat before ending in a sustained reverberation. It is thrillingly danced by the impressive looking Jazmon Voss and Cira Robinson. The tensions between the two turn into complex lifts, confrontations turn into trust. The sombre tones of Peter Todd's costumes are in contrast to the stronger colours of Yukiko Tsukamoto's costumes for the other ballets.
The programme ended with Will Tuckett's Depouillment, in which his clean-lined choreography closely follows the score: Ravel's Sonata for Violin and Cello. The lead couple is often echoed by the other dancers in what is sometimes very concise pared-down movement set against more fluid choreography. Its effect was seriously marred by unfortunate lighting which often left the dancers poorly illuminated. Too often these days dance work is seriously under-lit, especially it seems when companies used to playing small venues move into larger ones. I had been delighted to find David Plater's lighting for the rest of the programme showed the dancers off to great advantage - clearly defining black skin even against black drapes, with a smoke effect above creating a coloured sky that complement the light patterns on the stage. Plater even manages to light black drapes to give them a strong physicality. What went wrong with this last work? Was there some technical problem? It interfered with my enjoyment of what could perhaps have been a rather satisfying ballet.
This has become an exciting young company that well deserves the support it gets from the Royal Opera House. It may seem a reverse kind of racism to have an all-black company but, though an increasing number of black and Asian dancers do now appear with our other ballet companies, there is not a lot of opportunity for black and ethnically Asian young Britons to see them. One of the aims in setting up this company was to provide roles models for the young and especially those who aspire to be dancers. The company opened its own school in 2004 and runs an associate programme with over 100 members. But they don't need any PC argument, they are just good to watch and with prices from £12.50 - £16.50 they were seen by a packed audience that was made up very differently from those usually at the Royal Opera House!
2nd July 2009 only
Reviewer: Howard Loxton