BalletBoyz – the Talent 2013
Choreography by Liam Scarlett and Russell Maliphant Music by Max Richter and Armand Amar
BalletBoyz
Sadler's Well's Theatre
–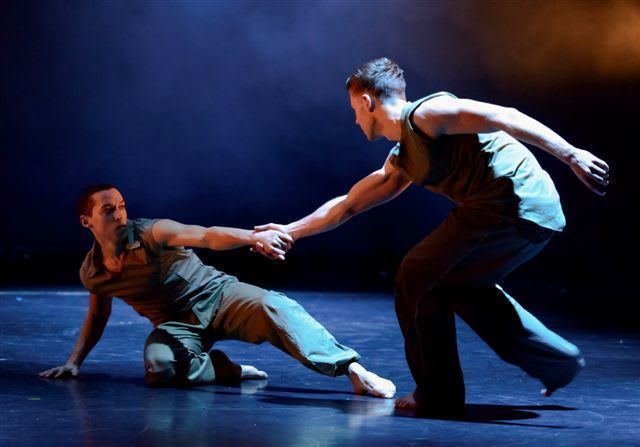 This double bill, which comes back to Sadler's Wells after an extensive tour, consists of Scarlett's Serpent and Maliphant's Fallen, both commissioned for the company of ten male dancers.
It is already a dozen years since Michael Nunn and William Trevitt left the Royal Ballet and formed their own company. It no longer centres on them as performers but now is a stimulating launching pad for young male talent.
They created the first The Talent company in 2011 with eight young men drawn from a wide range of backgrounds chosen at open audition from 100. For the current company with five vacancies to fill, they had to choose from 500.
They are now integrated with five continuing members of the previous company. There are no stars and the choreography and this programme draws on the whole company working as an ensemble—but that doesn't detract from the fact that they are dazzling performers.
Nunn and Trevitt as artistic directors keep a close eye on the work and they still use video as part of the programme. Gone now though are those home-movie segments and instead there is simply a video introduction for each ballet: a montage of rehearsal shots without comment and a brief interview with the choreographer.
Liam Scarlett, creator of Serpent, himself as young as some of his dancers though already with a strong reputation as a classical choreographer, spoke in his video interview of having to find a new way of working in response to the eclectic talent mix of the company. His work is set to tracks from Max Richter's album Memory House, providing a haunting, plangent score.
At first, ten seemingly naked bodies lie, curled foetus-like, in diagonals across the stage. Slowly, a single arm is raised, fingers stretched, wrist turned, then nine more. Is this a cobra's hooded head? It seems more like a swan's extended neck (a balletic joke, perhaps, for later there are moments when arms are extended, undulating like Bourne's swans).
The work's title is reflected more in phrases of slow sinuous movement, but this not a piece of narrative but a piece creating beauty and exploring the equilibrium of pairings, the possibilities of confrontations that are not contentions, moving from other patterns to groups as he continually reconfigures partners.
The men wear tights, the contours of which suggest American football players' pants, but there is no football pitch aggression here, instead a celebration of trust, a slow and sensual intimacy without being sexual.
In his interview, Russell Maliphant, choreographer of Fallen, speaks of the challenge of creating a work for ten men and of looking at light on bodies as a beginning. Armand Amar's score, with its percussive throbbing under sweeping strings, creates a much darker picture and, under Michael Hull's lighting, his dancers look like soldiers in vests and combat trousers.
First seen as a circle of raised bodies that then sinks down, they form a central arms-linked ring, like Greek dancers, circled by individuals gyrating on the ground.
There are moments when bodies spin to the limit of control, sequences of sweeping, stretching movements like the pistons of some mechanism of bodies interacting like cogs in a machine. Then the military imagery returns with ground figures advancing, like infantry crawling forward.
Later, in a wave-like sequence, bodies are raised on backs or high above the other men's shoulders like look-outs, sentries or sacrifices and then fall. It is more ritual than battle, in a repeated pattern that yet is not repetitious with leaping and springing leading to a consolidation of the mass.
My reading may be entirely subjective, but it is a powerful piece, set against the bare walls of the theatre and owing much (as does Serpent) to Michael Hull's emotive and effective lighting.
There are some solo moments, most noticeably by Andrea Carrucciu, easy to identify with his strong stage presence and a distinctive dark beard and moustache, but these are essentially company works with fine dancing from all his colleagues: Flavien Esmieu, Marc Galvez, Adam Kirkham, Jordan K Olpherts, Edward Pearce, Leon Poulton, Matthew Rees, Matthew Sandiford and Bradley Waller.
Reviewer: Howard Loxton