Ballo (or a Masked Ball)
Guiseppe Verdi and Adam Spreadbury-Maher
OperaUpClose
King's Head Theatre
–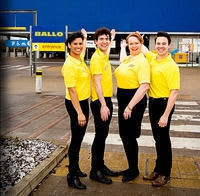 This is a new English version; its libretto adapted by Adam Spreadbury-Mayer, with input from the company, from that by Verdi, Antonio Somm, Eugene Scribe and Daniel Auber. It is played in a new piano version by Luca Tieppo. It is an opera that went through a number of versions in an attempt to satisfy censorship but it was originally loosely based on the assassination of King Gustav II of Sweden in 1792.
Spreadbury-Maher opens his production with a techie projecting an animated graphic to accompany a synopsis of the original version delivered in a strong Nordic accent (though by the time it actually got staged in 1859 the setting was Boston in Colonial America.
What follows in this English version brings it bang up to date, complete with mobile phones. Riccardo (as Verdi had to rename Gustav) is no longer a king but the manager of a branch of Ballo, an international furniture store, but the Swedish connection is still very evident in the yellow and blue branding of the company, whose Wembley branch staff we encounter attempting to assemble a flat-pack table throughout the overture.
Riccardo (tenor Paul Featherstone the night I saw it—there is an alternative cast through the run) is in love with checkout operator Amelia (soprano Laura Hudson), wife of his best friend and assistant manager Renato (baritone Mark Holland). Oscar, a page in the original, now becomes Riccardo's PA who, despite the high register, is sung unusually by a male soprano. It is an exuberantly camp performance from Alan Richardson that reflects the gay preferences of the historical original; the manager is straight. Customer complaints officer Ulrica (coloratura Emelie Joennieme) is the amateur astrologer who predicts Riccardo's death and bass Dickon Gough Tom the cleaner and handyman who has a grudge against his boss.
With Ben Woodward at the piano, playing with a whole orchestra's energy and this intimate almost in-the-round production, voices are given an extra prominence and the whole cast deliver. If there are a few moments of vocal strain, at this proximity they seem part of the characterisation.
Ulrica's high passages are not always intelligible but both Verdi's repetitions and the production make sure you know what is happening, though they give the singer little chance to suggest why Riccardo should have become so infatuated with her. Since this production has a light touch that puts the emphasis on comedy, that doesn't really matter for it is not until the second act that things turn dark as the manager's murder is plotted at the staff party where even the audience is invited to don masks.
Spreadbury-Maher's very vernacular version with its mobile 'phone conversations makes the most of this operatic soap that could be placed somewhere between Dynasty and EastEnders. It gets a bit bogged down with a very static aria at the beginning of the second act but it is otherwise full of invention. Strongly sung, it makes great entertainment.
Once again, Opera Up Close demonstrates how effective opera can be in intimate surroundings. This is opera that engages, a long way from old-fashioned operatic dinosaurs and at a price that is affordable too.
In view of which it is also worth mentioning that the Kings Head plays and operas, unlike some fringe theatres, pay performers and stage management Equity agreed contract rates.
Reviewer: Howard Loxton