BambinO
Composed by Lliam Paterson
Manchester International Festival, Scottish Opera and Improbable
The Grafton Centre, Hyde
–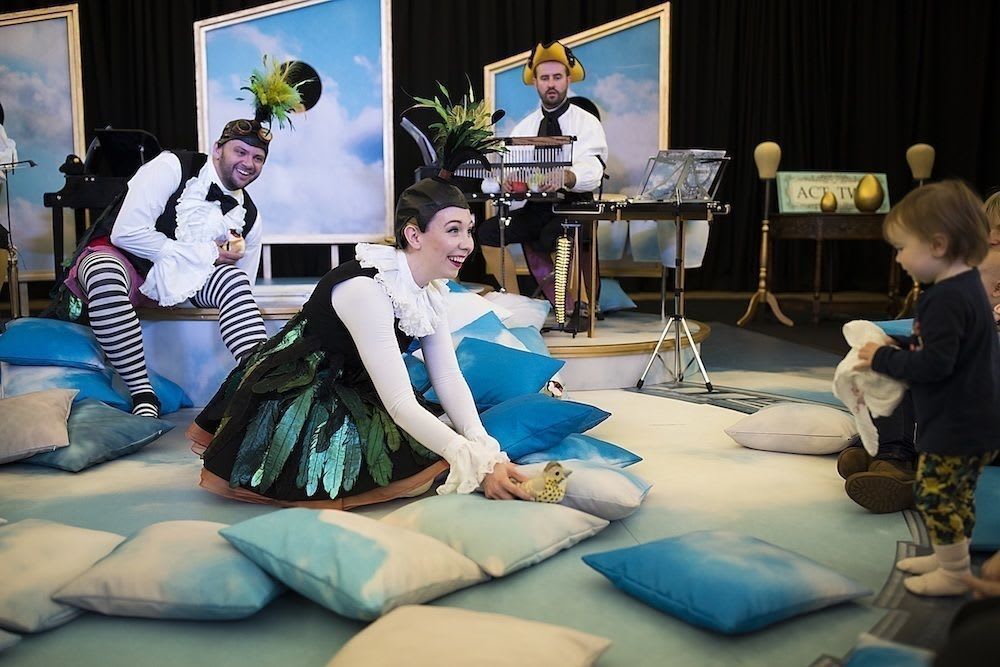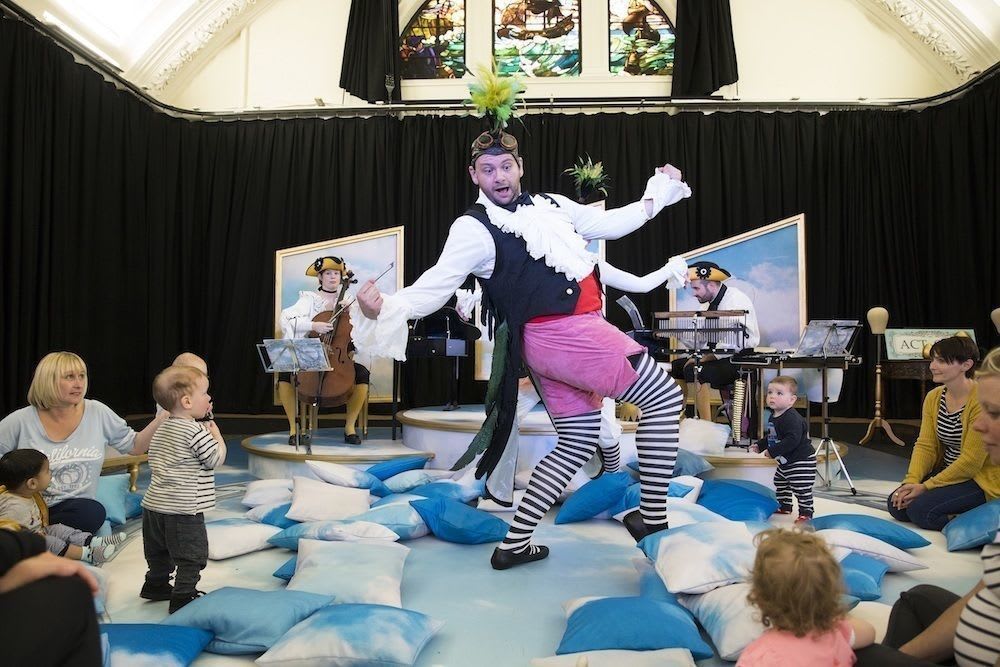 Before I left The Grafton Centre, a parent, having noticed my notebook (and lack of a baby as well no doubt), said she hoped I'd be giving it a good review; her 15-month-old, who rarely sits still for very long, she said was captivated for the whole time.
And that's really all the review that's necessary as the show was written for him and his age group, not for me. But, while the target audience is for 6- to 18-month-olds, it is still a real opera, with a specially composed score and a story in two acts, all sung in Italian. It couldn't be further from Wagner in scale or length, but it definitely belongs to the same universe.
The story is rather thin, but easy for young ones to follow. A bird called Uccellina (Charlotte Hoather), dressed in shimmering blue-green feathers, finds a golden egg, which rather disturbingly grows and grows before Pulcino (Timothy Connor) pops out of it. He takes a little while to find his feet and his voice and can be a little mischievous.
After the "intermission music", the youngster is told by Uccellina of the sky and has to prepare to leave the nest. After a final duet, Pulcino fledges and flies off into the clouds.
The two opera singers are joined on stage by cellist Laura Sergeant and percussionist Stuart Semple, who also sing a bit. The beautifully designed set and costumes by Giuseppe and Emma Bell have a sky and cloud theme that extends across the backdrop, the cushions on the stage—where the young spectators are allowed to crawl amongst the performers—and even the audience's seats.
My only issue at this venue is with visibility: as the audience and performance area are on the same level and a large amount of action happens on the floor, only those on the front row can get a clear view. I opted early on to stand at the back or I wouldn't be able to report on much more than what it sounded like.
But the children were engaged—most intermittently as you would expect at that age (one was obsessed with the clock at the back of the hall)—and the parents were charmed, and it has sold out its run of small venues like this one around Greater Manchester, which has got to be a big success for such an unusual project.
Director Phelim McDermott says in the programme that he hopes, in years to come, that there will be adults at the opera who will be asked when they saw their first opera: "And they'll be able to say, 'Well, I was 11 months old when I went to see an opera.'" These could well be the opera audiences of the future.
From Hyde, BambinO travels to Heywood, Oldham and Salford before a 2-week run in the Edinburgh Fringe in August.
Reviewer: David Chadderton