Bang! Is This Your Vehicle Sir?
Boothby Graffoe
Makin Projects
Released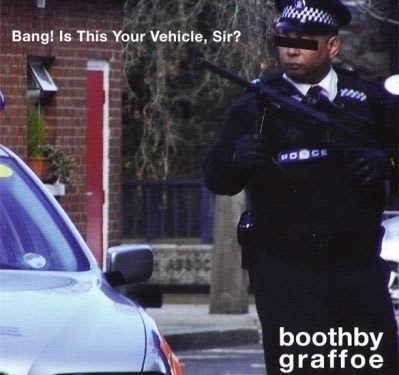 Boothby Graffoe, comedian, playwright and star of a number of Radio 4 comedy series and one episode of The Bill, seemed to be a permanent fixture at the Edinburgh Fringe until he just disappeared from the Fringe brochure and the touring scene in general. He continued to write for fellow comedian Omid Djalili, but, he tells me, he suddenly realised that he had never had a proper summer holiday with his family and so decided to, as the politicians used to euphemise, "spend more time with his family".
Now he's back and touring to promote his latest album, Bang! Is This Your Vehicle Sir?. No, this isn't another comedian turning into a lounge singer; Graffoe's brilliant comic songs were always a major part of his act, and he always appeared on stage with a guitar and usually at least one other very talented musician (Nick Pynn, Antonio Forcione and The Following People have all played this supporting role). His surreal flights of fancy tell stories that can both move and amuse, with clever plays on words and a particular fondness for the classic comic technique of "pull back and reveal".
This album is a bit of a catch up, as a few of the songs have already featured for some time in his live act and radio shows. New ones—at least to me—include the opening track "Attack of the 50ft Woman", which manages to create the plot of a whole science fiction film in just five minutes, "Trampoline" in which he indulges his obsession with Sarah Palin (a negative one, I should add—seemingly replacing the one he had for George W Bush).
A highlight of the new ones is "Dude! Have you seen the Telly?", a wonderful tale of a weather man going mad that paints such a vivid picture of the scene that you can just picture the whole thing, "he's decorating the newsreader in little yellow suns".
"England" is a song that Graffoe first did a long time ago, but more has been added to it to make it seem like more of a complete song. Similarly, the wonderfully moving tale of "The Captain's Address", basically an airline pilot having a breakdown over the tannoy in mid-flight, has acquired a middle eight without spoiling one of Graffoe's best bittersweet musical tales.
"Lullaby" is a great partner to Howard Read's song with the same basic message: go to sleep or you'll ruin your famiiy's life. "Busy" sounds like the mad ramblings of someone obsessed with the destruction of the planet, but it's got a hell of a catchy chorus and a great piece about the "seventeen rings on my gas cooker". "Fish With Feet" gives human attributes to non-humans in a song that sounds surreal but which is actually concerned with the down-to-earth practicalities of their new acquisitions.
A couple of the songs are, lyrically at least, fragments, albeit with some very nice music in the instrumental sections: "Boy Could She Wave" and "Another Song For Boo". "Keith's Song" plays beautifully with words and bizarre images in classic Boothby style, and "Hop" takes basic wordplay and makes it sound quite profound.
We end with a song that suggests a return to sci-fi with its title of "Zombies" but is really a series of gossipy stories with a catchy chorus that is basically a panicked conversation about... well perhaps about escaping from zombies.
Boothby Graffoe really is a master of the comic song, and this new album demonstrates his range, from the plain silly to great stories in song through to numbers that you laugh at with a bit of a lump in your throat. For lovers of wordplay like me, there are plenty of moments to smile in satisfaction, but it's also great to finally have a copy of one of my favourite Boothby numbers, "The Captain's Address".
While I miss that manic or mischevious glint in his eye as he sings these numbers live, they are still very funny in recorded form and well worth a listen.
Reviewer: David Chadderton