Bangers
Danusia Samal
Cardboard Citizens and Soho Theatre
Soho Theatre upstairs
–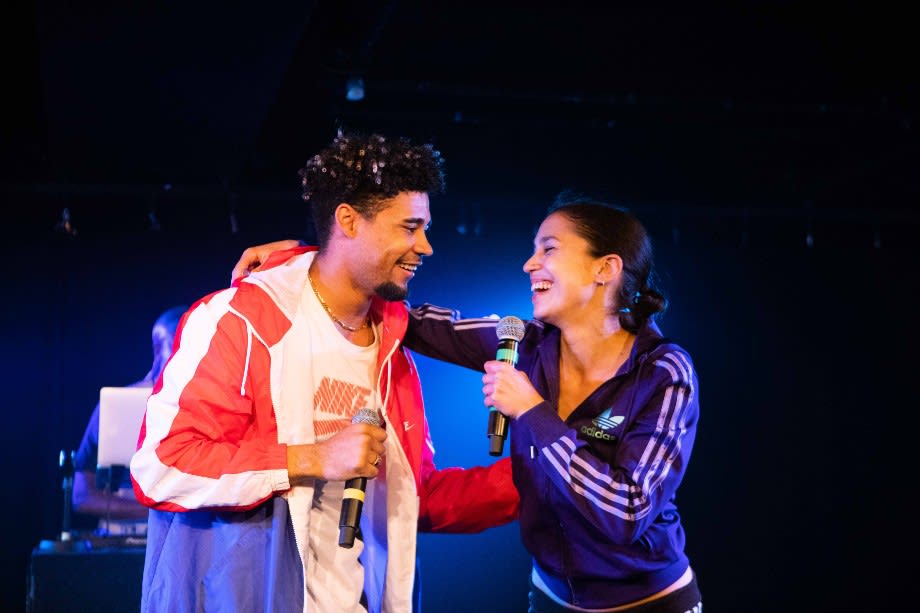 The wild, playful energy of Bangers opens with its two leading characters emerging from huge amplifiers to Lethal Bizzle's 2004 tune "POW!" that at one time sparked such epic dance responses in clubs that some of them banned it.
The DJ (Duramaney Kamara) says the show "is about fuckeries of the past." Aria (Danusia Samal) and Clem (Darragh Hand) are haunted by different people in their past, who helped them develop a musical ability that now seems blocked or lost.
In less than seventy minutes, Aria and Clem switch continuously between nine parts over a period of fifteen years. If your attention falters for a second, you may wonder who is speaking to whom.
The story unfolds in lyrical dialogue and narration, accompanied by lively dance and humour. The mood is upbeat, with touches of melancholy and yearning as their coming of age experiences are revealed.
But as the show skates quickly across its story, there is a lack of depth to the characters and the events we see. This includes a momentary romantic encounter between two males and a guilty fleeting scene between a sixteen-year-old and a married man in a position of authority. Even slighter are the depictions of the troubled relationships between Clem and his father and Aria and her father.
The performance is always entertaining, good-natured and generally optimistic, but its story is unfortunately slight.
Reviewer: Keith Mckenna