Beneath the Banyan Tree
Emil Sher
Theatre Hullabaloo in partnership with Theatre Direct (Canada)
Northern Stage, Newcastle, and touring
(2009)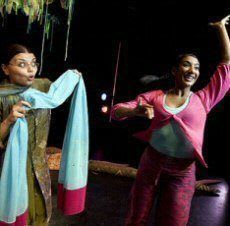 Every time I see a piece of theatre for children (and this one is aimed at children of 7+) I come away impressed and wonder why I don't choose to see more. Partially, of course, it's because these performances are usually during the day which can be difficult because of other commitments, but usually juggling those commitments is more than worthwhile.
Memo to self: see more children's theatre!
Beneath the Banyan Tree is the story of an Indian girl, Anjali (Archana Ballal), whose family comes to settle in England, something which worries her because everyone knows that England is very wet and people wear raincoats all the time, even in bed. Anjali loves to dance and the traditional dance style Bharatanatyam is an important feature of the production. And she loves the stories of the Panchatantra.
When she comes to England she finds herself between her Indian self and the desire to be accepted by the other children at school. Her Ajji (Grandmother, played by Grethe Jensen) pushes her into keeping the traditions of India alive but classmate Savannah (also played by Jensen) mocks the differences. We can easily see the effect this has on her, but then another classmate, Aidan (Paul Conway), finds the differences fascinating and there is a lovely lunch-time scene in which Aiden offers her half a sandwich for a taste of her lunch of chapati, samosa and other Indian food. She proposes a complete swap, his sandwich for her entire lunch!
Storytelling (three fables from the Panchatantra), puppetry, physical theatre (including some playground bullying), Bharatanatyam and traditional Indian music, as well as normal dialogue, combine to show how Anjali is able to reconcile the conflicting strands of her life and how Ajji and Savannah both learn to accept differences.
At an hour long, it gripped both children and adults (and this reviewer), enabling us to see both points of view and delight in their reconciliation. This is due to the well-crafted nature of the piece itself, to the bright, colourful and effective set and costumes (by Cheryl Lalonde), and, in particular, to the totally committed performances of the cast of four (the previously mentioned three and John Afzal as Maitri, the Banyan Tree itself).
A question and answer session followed (the first time I've seen this in a children's show), with contributions from both children and adults, the highlight of which was a question from a young boy which elicited rueful looks from the cast (and, it has to be said, from me too): "Do you make a lot of money?"
Touring to Southampton Nuffield, Portsmouth New Theatre Royal, The Acr (Stockton), Darlington Arts Centre, South Street Arts Centre (Reading), Norden Farm (Maidenhead), The Rose (Ormskirk) and the Old Town Hall, Gateshead.
Reviewer: Peter Lathan