Barbe-Bleue
Jacques Offenbach
Opera de Lyon
Released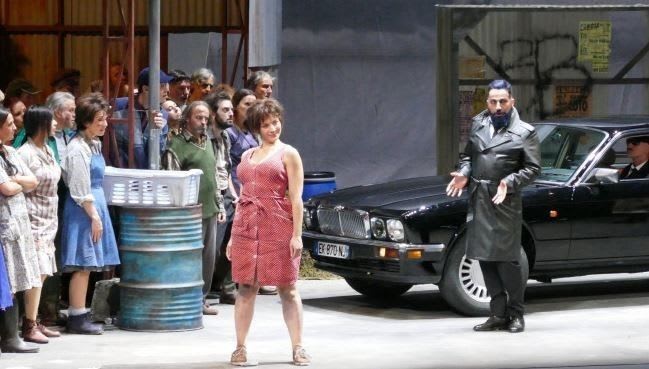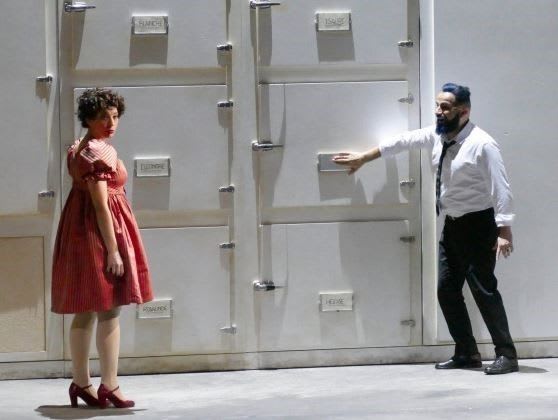 Positives first. This DVD comes with the bonus of an excellent documentary film by Reiner Moritz, lasting nearly an hour, about the operatic career of Jacques Offenbach.
It's narrated by the noted director and Offenbach enthusiast Barrie Kosky, with contributions from Laurent Pelly, director of this production of Barbe-Bleue, its conductor Michele Spotti, and by Felicity Lott, with extracts from her magnificent performance in La Belle Helene, as well as scenes from Orphee aux Enfers and Les Contes d'Hoffmann.
As for the main programme, recorded in 2019, this was 11th Offenbach opera that Pelly had directed since the opening of the Lyon Opera in 1993.
The story is promising. Bluebeard, having seen off wives one to five, holds a lottery among the local folk for number six, won by the redoubtable Boulotte. However, his roving eye soon falls on another, peasant girl turned princess (but we won't go into all that) Saphir, so the murderous lecher packs off Boulotte too (or so he thinks).
She survives his poison plot and leads the resuscitated five to teach her husband a lesson. She soon has him under her thumb—or more precisely under her boot—Saphir weds her beloved, a peasant boy turned prince (but we won't go into all that), and all ends happily.
It's a lively production, with attractive, contrasting sets that take one from the farmyard of a not very prosperous corner of France to the palace of a king, behind which modern newspaper headlines speak of a village of fear from which women have disappeared.
There is a good chorus, manipulated as one like rows of co-ordinated puppets to drolly comic effect, and a particularly well-choreographed scene of royal hand-kissing in which the unsophisticated Boulotte kisses instead every man in sight.
Add a frothy overture, a jaunty score, and a typically Offenbach heroine of forthright character and there is much to enjoy. Plus there is Heloise Mas as Boulotte.
She's pushy, she's sassy, she's very forward in every way. She's also very funny, her ebullient expression of girl power immediately lifting a rather dull second act when she bursts into life at the king's reception. Her voice is similarly impressive, rich in the lower range ascending smoothly to a ringing top.
Sadly, the other singers are not in the same class, and this disappointing aspect of the production is brought into focus by the extracts from other operas seen in the documentary.
Yann Bueron as Bluebeard, introduced by sinister notes in the brass, is heard to best effect when attacking patter songs like the yabadaba act 1 finale with percussive impact, or when singing full out. Indeed, his final act duet with Boulotte is the best part of the opera musically, and his jollity before open-mouthed courtiers after his latest bereavement is its comic high point.
But at other times his chest and head voices are distinctively different, like two persons in one body, rich in the lower range, reedy at the top.
Christophe Gay, Bluebeard's alchemist Popolani, is the best of the rest, with a nice grainy baritone timbre. Thibault de Damas has a comic actor's skill in delivering his many lines of spoken narrative as the king's envoy Oscar. Carl Ghazarossian and Jennifer Courcier as prince and princess, formerly peasant and peasantess, are on this hearing about on the level of adequate Gilbert & Sullivan artistes.
The court scene rather gets in the way of the main plot. It was intended as a satire on the pompous Napoleon III, with a row of courtiers taught to bow and scrape, but Christophe Mortagne's over-the-top daftness as king Bobeche is tedious, despite his facial contortions that reminded me of the late Fernandel.
In the documentary, Lott describes Offenbach as musically superior, sexier and sharper than his British counterparts. Few would dispute that, but there are better examples to prove the argument.
Reviewer: Colin Davison