Barber Shop Chronicles
Inua Ellams
National Theatre, Fuel and Leeds Playhouse
Dorfman Theatre, National Theatre
–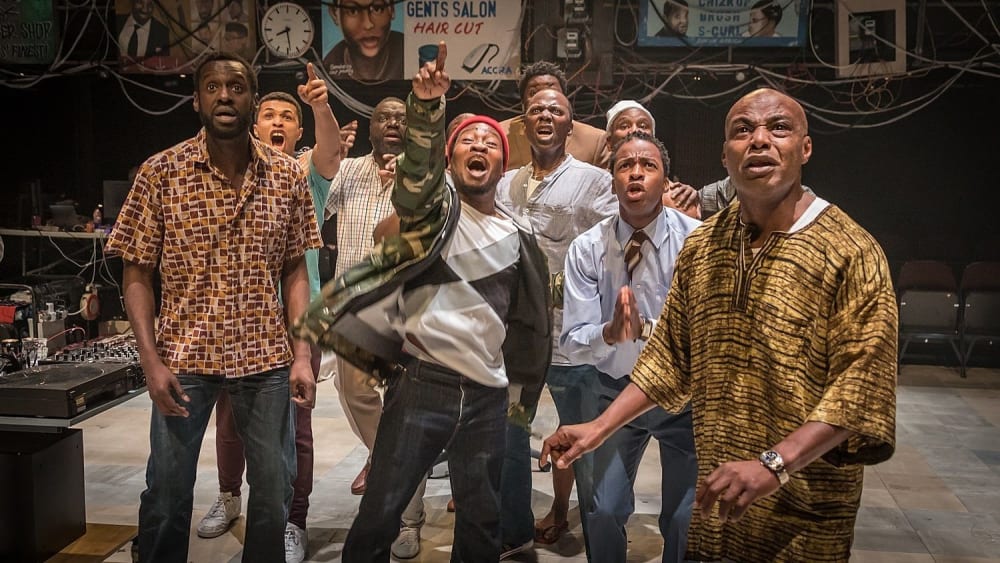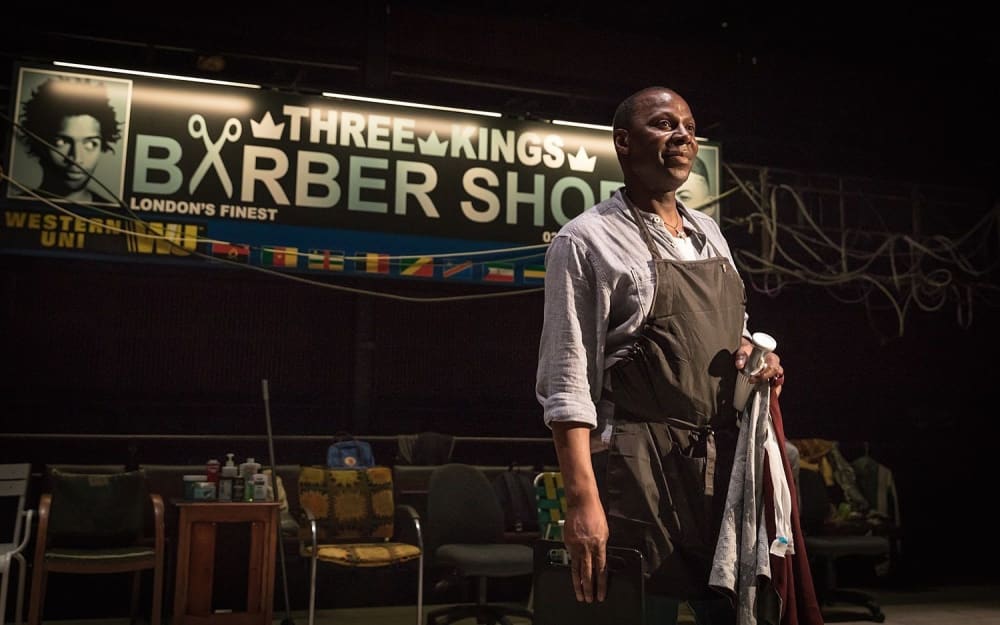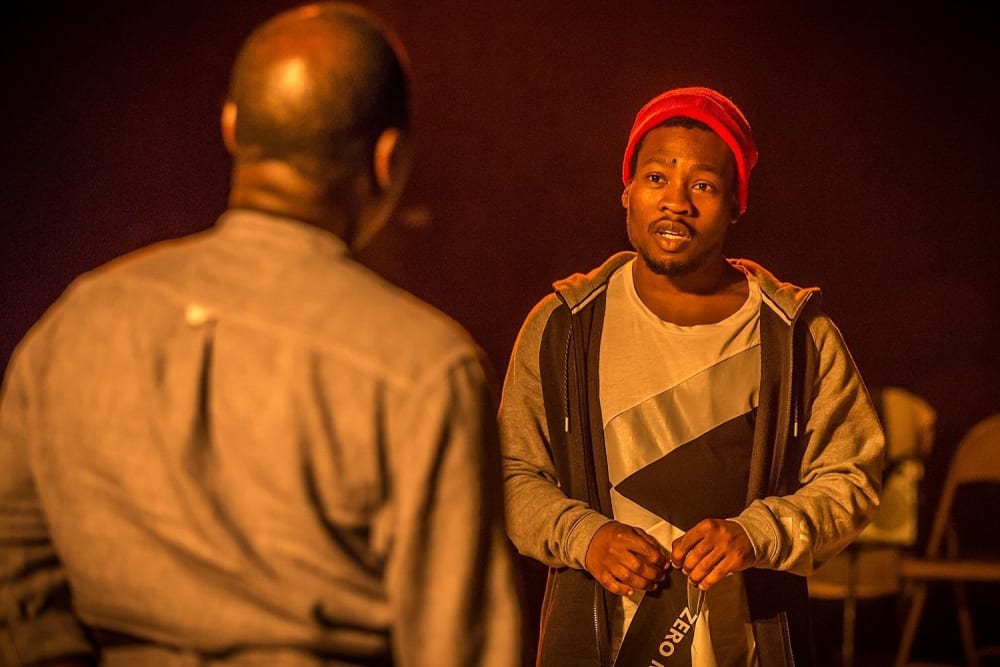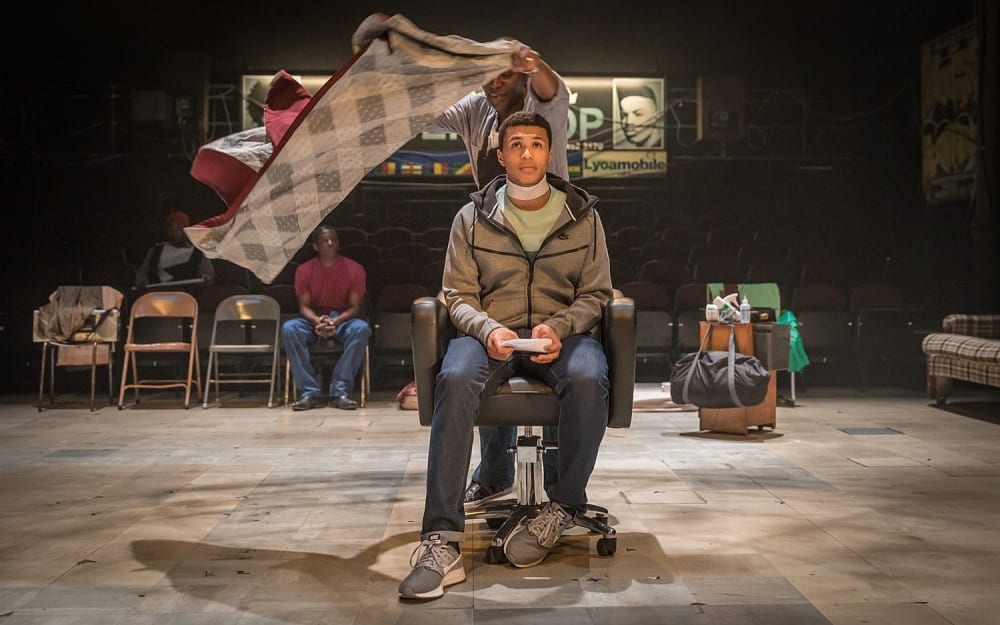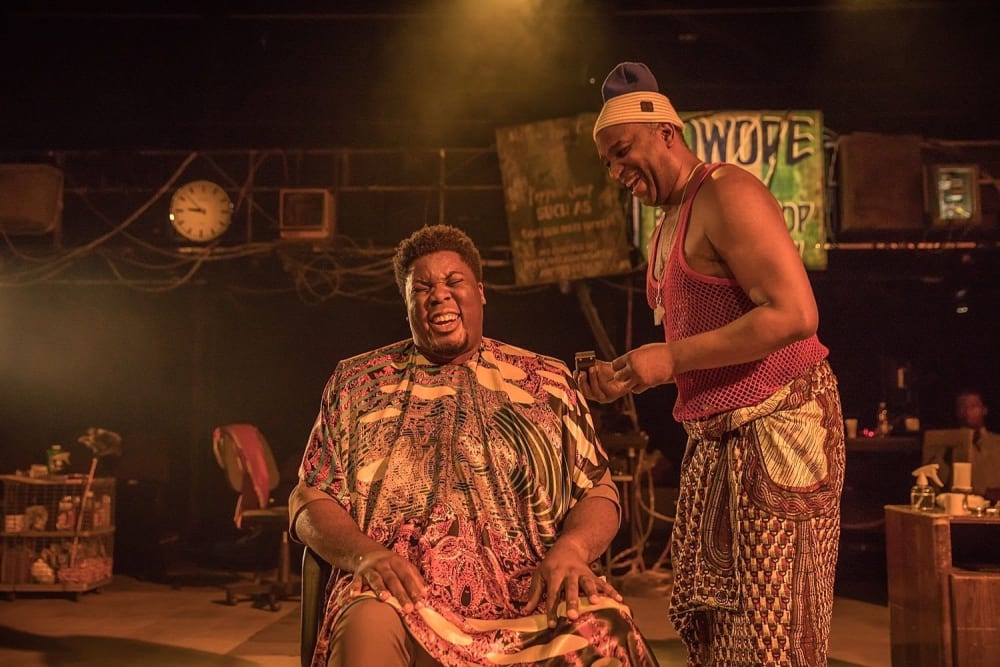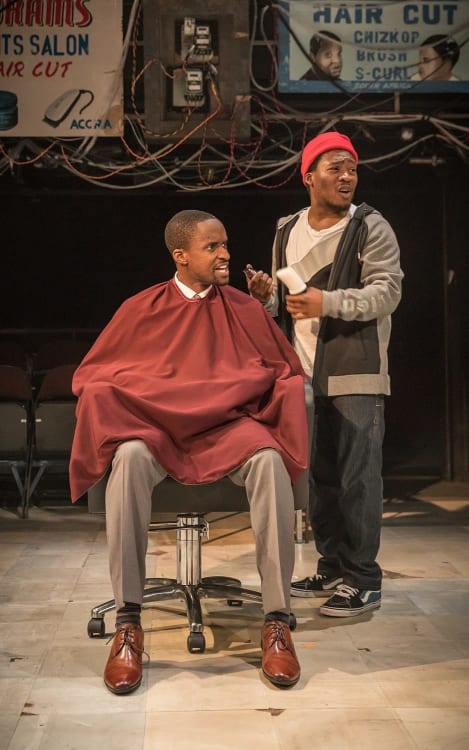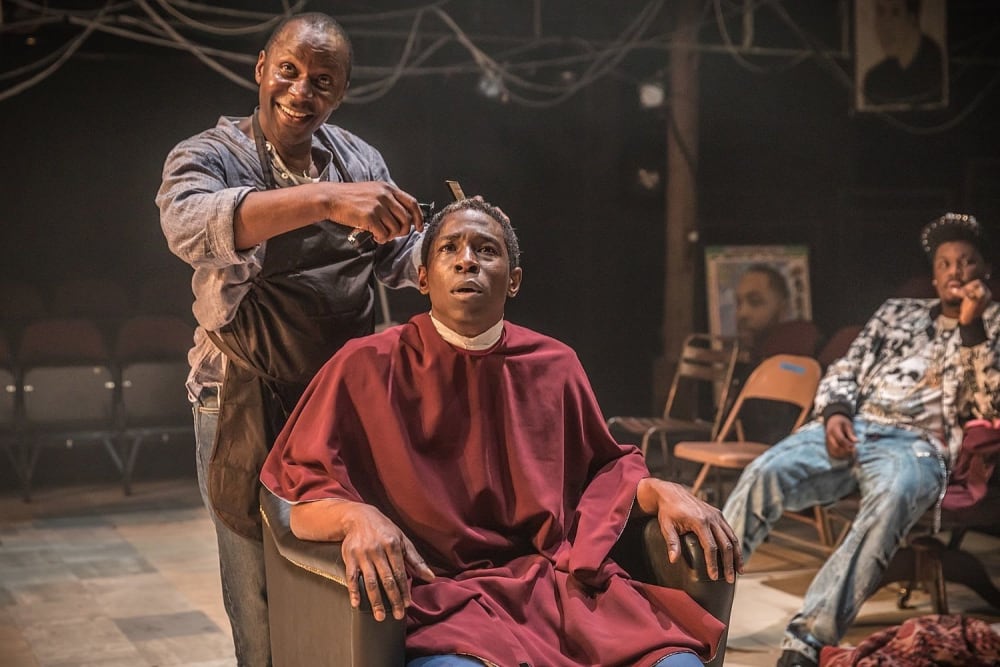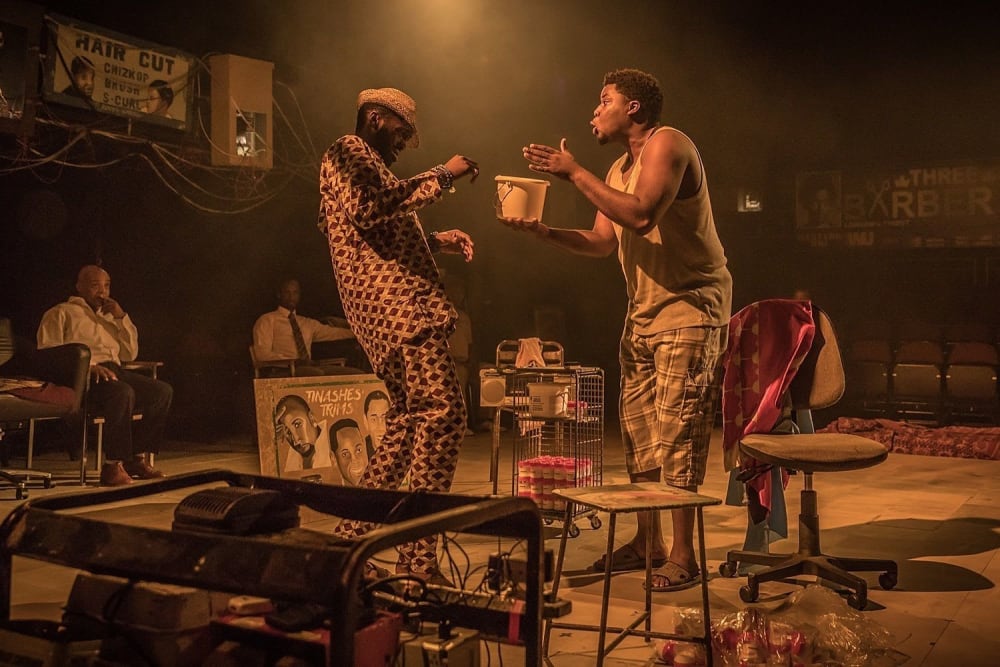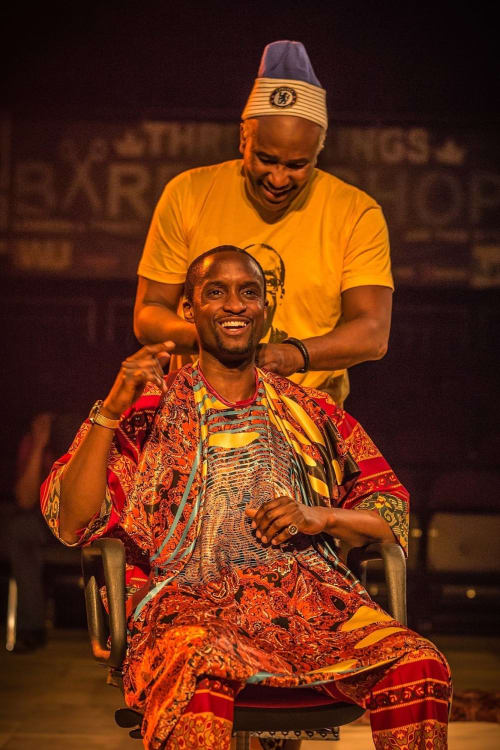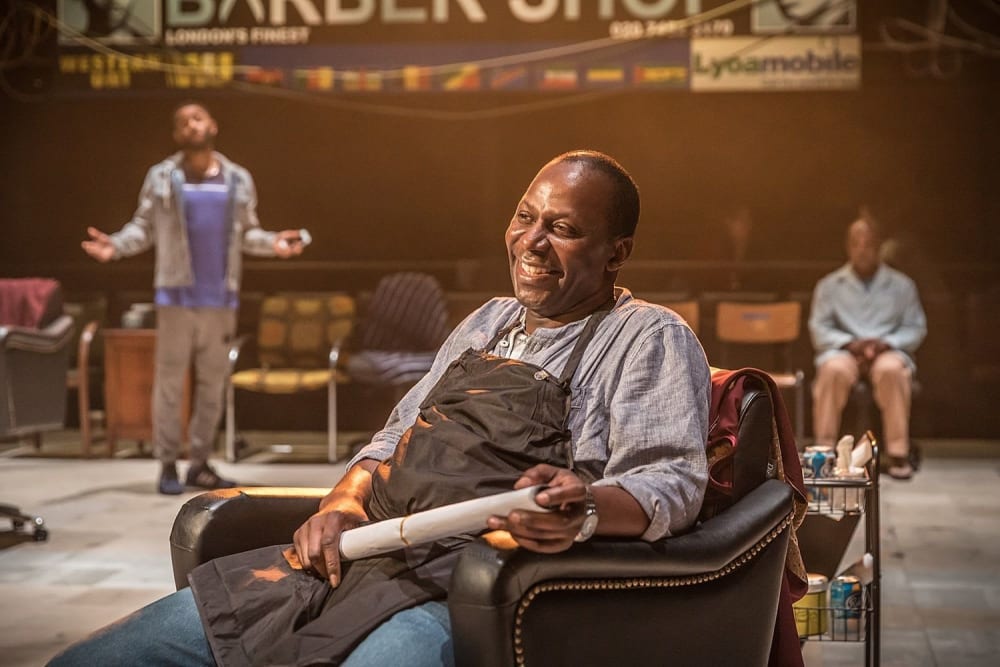 It's a little over a year ago since I was lucky to be offered a single ticket up on the balcony to review this sold-out show at the Royal Exchange in Manchester. It was such a joyous experience that, when the National Theatre announced it was to stream it for the first time—it was never an NT Live broadcast like the others it has recently streamed—I jumped at the chance to see it again, and to share it with my partner-in-isolation.
It's a celebration of African barber shop culture through scenes located in towns and cities throughout that continent, but it is all linked through a barber shop serving a black community in London shared by barbers Emmanuel (Cyril Nri), Winston (Anthony Welsh) and young Samuel (Fisayo Akinade). Seeing it for a second time, I think a spotted a lot more of the actual links, such as the man in Africa estranged from his family who follows his actor son in London on the Internet and the young actor in London getting a haircut before an audition who doesn't know who or where is African father is.
The most obvious literal link is that everything happens on the same day, as most of them across two continents are following the Chelsea v Barcelona match on a TV or radio in the shop. But the links are also thematic, as these are places where there is a culture of men coming together and talking—the hair cutting is almost incidental—about every subject: from football to women, to race, to language, to politics. And there are some well-argued and honestly held beliefs that may make a white, liberal audience uncomfortable, such as one man's defence of Robert Mugabe, and another's attack on Nelson Mandela and the Truth and Reconciliation Commission, arguing that Winnie Mandela would have made a better leader.
The linking story, subtly hinted until it comes to a head at the end, revolves around the reasons for Samuel forcibly ejecting Elnathan (Sule Rimi) from the shop at the start and his cool treatment of Emmanuel, which seems to have something to do with his father's absence. This scattered storyline brings in many of the themes that are examined throughout the play, often with a great deal of humour, such as what it means to be black, a man, a father, a son, and any combination of these things.
It's a play streaked with laugh-out-loud humour about serious subjects which it never trivialises, a script written with great intelligence and insight that still feels like a party, a celebration, even when experienced through the screen.
The ensemble playing, most taking multiple roles but barely recognisable from one character to the next, is very impressive with slick direction from Bijan Sheibani, who has created an atmosphere that allows the actors freedom to have fun with their roles and with the audience without ever becoming self-indulgent.
I know it's become a convention to talk about what we need from our entertainment "in these times", as though mindless entertainment is all we can take at the moment, but this show is a tonic for any time and so much more as well. I can't imagine anyone who has seen it already, whether on stage or on screen, not wanting to see it again.
Reviewer: David Chadderton