The Barber of Savile Row
Tim Riley and John Lovatt, adapted from Gioachino Rossini and Cesare Sterbini's The Barber of Seville
Unexpected Opera
Warehouse Theatre, Croydon, and touring
(2009)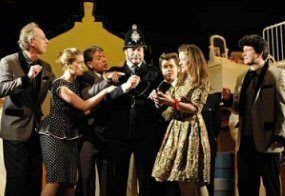 The whole point of Unexpected Opera is to find a new public and new venues for opera by creating productions that with connect with today's audiences who may find it difficult to cope with warbling in a foreign language and situations with which they don't connect. They rethink classic work by presenting it in English and adapting it to more contemporary situations. For their first production, only two years ago, they rethought Die Fledermaus and, as The Bat's Revenge, transported it from Viennese salons to a seedy '50s Soho club. Last year they created this version of Rossini's classic, itself based on a Beaumarchais play, which is now at the Warehouse to kick off a new tour.
Once again they have gone for the 1950s, just close enough to not feel like costume drama but before the intrusion of mobile phones and other technology that that might demand too drastic a rewrite and far enough back to accept the naivety of the plot.
This is pocket opera in that it has a compact (but effectively simple) set that can easily be toured to small venues and the opera house orchestra shrunk to what the producers style 'a combo': musical director Stephen Hose on keyboard, Niall Webb on clarinet and sax, Gareth Huw-Davies on Bass and Leopold con Bulow-Quirk on the drum kit..
This is not exactly the original 1816 scoring but all the familiar tunes are there and, though not quite in the 'Three Tenors' class there is a sterling cast to sing them who, far from being mere canaries, give high spirited performances.
Figaro (Richard Immerglück) is a barber more the newly fashionable Carnaby Street than Sevillanos, with an elaborate quiff and DA combing, who seems to have picked up a few Elvis gyrations. Count Almaviva has become the English Marquis of Basingstoke (Patrick Ashcroft, especially effective when pretending to be a singing teacher nun), old Dr Bartolo a tailor on Savile Row, though perhaps not such a successful one since he is relying on marrying his ward Rosie (Aurore Lacabe) to get hold of her share of his shop.
The Marquis's servant (John Furlong) finds a skiffle group to back Basingstoke in his serenading - but don't worry, they only mime, the music stays Rossini's and the prevailing style is definitely Teddy Boy not Gieves.
The whole thing is enormous fun and had the performers had the audience in the palm of their hands, especially Phil Conner as Don Basil character, now turned into a phoney super-fixer Donna Basil, pocketing the dosh and eventually revealed as a burglar in drag, and Tony Harris as the Officer, now in the police force not the military - especially in an interpolated bit of Gilbert and Sullivan with audience participation. I know, that's not Rossini but this show is worth seeing for his splendid knee-bending Dick from Doxon Green alone and I am sure the composer would have enjoyed it as much as I did.
There was an excellent demonstration here of the continuity of theatre as the original commedia characters on which Beaumarchais grew still show through in this modern version of the story, blending beautifully with Rossini's splendid tunes. Like Lynn Binstock's production, the music is often taken at a pretty pace, which some of their articulation is not always up to, but with such brio that small faults are easily forgiven.
Some ultra purists may turn their noses up, but I am tempted to call them snobs. I'd recommend that even opera buffs give this one a try and those who haven't yet dipped a toe in operatic waters should jump in - the water's lovely!
At Warehouse Theatre until 15th April 2009 then Civic Theatre, Chelmsford, 16th April, Stag theatre, Sevenoaks, 18th April and The Scoop, London, 24th - 26th June 2009
Reviewer: Howard Loxton