Barbra and Frank: The Concert That Never Was...
Looking Glass Promotions & SVS Tribute Entertainment
New Players Theatre
(2010)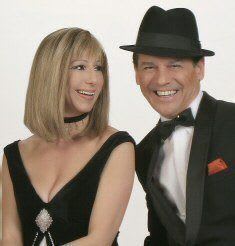 The New York Times, reviewing Barbra Streisand's 1993 album Back to Broadway, proclaimed that Streisand "enjoys a cultural status that only one other American entertainer, Frank Sinatra, has achieved in the last half century". There are certainly many comparisons that can be drawn between the two entertainers. Both have enjoyed extraordinary longevity. Sinatra's career spanned seven decades while Streisand is still going strong fifty years after her debut. They have both found success as both singers and actors and are among only four people to have ever won both an Oscar and had a number one single on the US Billboard charts (the other two being Cher and Shirley Jones).
It is perhaps surprising then that these two powerhouses of the American music industry never performed together. They did release a duet of I've Got A Crush On You but each recorded their parts separately in different studios. Allegedly when Streisand asked if they could record it together Sinatra refused. So it seems unlikely he would have ever considered a joint concert.
But reality is not what made Las Vegas the self-professed entertainment capital of the world and for the past four years visitors to the Sin City have been able to see Babs and Ol' Blue Eyes together in Barbra & Frank: The Concert That Never Was... Starring Sharon Owens and Sebastian Anzaldo, two of the world's leading Streisand and Sinatra impersonators, Barbra & Frank brings a little bit of Las Vegas glitz to the New Players Theatre in the arches beneath Charing Cross Station.
Barbra & Frank: The Concert That Never Was... starts with a whimper rather than a bang as the audience is subjected to a painfully slow and amateurish PowerPoint presentation of Streisand and Sinatra trivia. But all is forgiven when Owens and Anzaldo walk on to stage. They look remarkably convincing and have the voices and mannerisms of the two great stars down pat. Owens' Streisand steals the show with her quick jibes and relaxed audience interaction. She is a natural on the stage and doesn't seem to suffer from any of the real Streisand's well documented stage fright.
Owens and Anzaldo have clearly done their research and throw some cheeky local references into their routine as well as a running gag about the trains that can be heard rumbling overhead. Both performers do justice to a broad selection of Streisand and Sinatra's back catalogue but it is in their witty interactions that they really shine. The pair gently poke fun at their characters as they engage in some friendly rivalry. At one point Streisand says she was listening to Sinatra when she was two, before telling him "You're not old, you're dead!"
A glitch during the first act was a blessing in disguise as it forced the crew to shut down the distracting and poorly designed projections. Likewise Owens and Anzaldo were let down by bad lighting which left them in the dark at various points. Technical gaffs aside, Barbra & Frank: The Concert That Never Was... is the perfect Christmas show for fans of Streisand and Sinatra alike and an absolute must see if you are a fan of both.
Runs until December 18.
Reviewer: Iain James Finlayson