Bare: A Pop Opera
John Hartmere and Damon Intrabartolo
Act Up Theatre
theSpace @ Surgeons Hall
–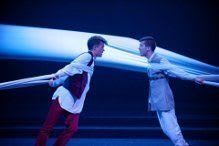 Act Up Theatre has had a long journey from North Dakota in the USA to Edinburgh in this their second visit to the Fringe.
The company is a performance training ground for young artists with exceptional musical theatre talent and they certainly have that in abundance in this excellent production of Bare: A Pop Opera.
This contemporary vibrant rock musical is set in St Cecilia's co-educational Catholic boarding school and wrestles with the final year teenage student's issues of identity, fitting into society, religion and sexuality.
The end of term production is Romeo and Juliet and for Peter and James, who are gay young lovers, their lives echo the tragedy of the star-crossed lovers in the play.
The energetic cast perform with professional aplomb with resolute ensemble work, beautiful strong singing voices and skilful inventive choreography.
There is a rich score from powerful ballads to persuasive solos, raps and robust chorus numbers all played by a confident on-stage band.
Peter is desperate to come out but his mother won't listen to him but Jason is terrified of his father's response to his homosexuality.
Things don't work out smoothly for the boys after they attend a drug-driven rave and there is a threat that their sexuality will be revealed.
Moreover Jason's love interest is being swayed by a girl with inevitable and disastrous results.
Stand out scenes included a gospel number "God Don't Make Trash", Romeo and Juliet's moving "Palmers Kiss" and "But it's a Secret".
The poignant ending is exceedingly moving; several members of the audience brought handkerchiefs to their faces.
It was an absolute joy to watch this stylish, exuberant performance and is certainly one for your list of shows to see.
Reviewer: Robin Strapp