Barefoot in the Park
Neil Simon
Richmond Theatre
–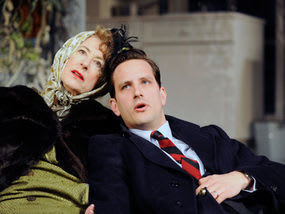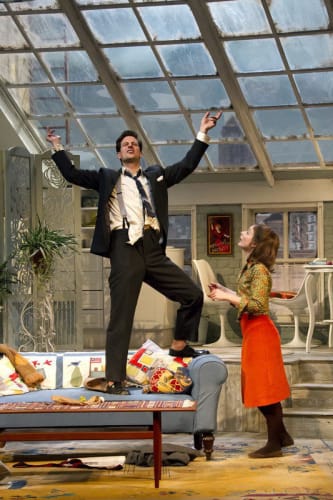 Although his work has received as much derision as adoration in some quarters over the years, Neil Simon's appeal to theatre audiences remains clear, what with Thea Sharrock's production of The Sunshine Boys now previewing in the West End and this production of Barefoot in the Park now touring.
First produced on Broadway in 1963, where it ran for four years, Barefoot in the Park was Simon's first great success and was later filmed, enjoyably, with Robert Redford, Jane Fonda, Mildred Natwick and Charles Boyer, by Gene Saks in 1967. A 2006 Broadway revival of the play directed by Scott Elliott failed to please, but this new production, directed by Maureen Lipman who also stars in the role first filled by Natwick, looks likely to have a lucrative life on the road here, if the warm and enthusiastic response of Richmond's audience last night is anything to go by.
Simon's comedy often pivots around squabbling couples, and Barefoot in the Park establishes that formula. The pair in question here are Corie and Paul Bratter, newlyweds in the process of moving into a miserable 48th St. fifth floor apartment, with no heating or bath and a broken skylight. Temperamentally they're opposites: Paul is a hardworking lawyer, safe and sensible, and Corie a spontaneous romantic. As they encounter crazy neighbours, notably the effusive Mr Velasco, who rents the attic apartment above them, and entertain Corie's mother, Ethel, the differences between the couple promptly reach a crisis point, with Corie denouncing Paul as a "stuffed shirt" who's unwilling to experience such (alleged) joys as walking barefoot in the park in winter.
Benefiting from an excellent design by Tim Goodchild, and set to a choice soundtrack of 1950s and 60s music, Lipman's production is spry and enjoyable. The material is sitcomy, and Simon's quip-strewn dialogue doesn't always sound as fresh as it might have done originally. But the best of the lines still have wit and surprise, and the expert cast help to carry the play through what Pauline Kael termed the "moments of dramatic untruth" that sometimes crop up in Simon's scenario.
A much less strident presence than Jane Fonda in the film, Faye Castelow brings a lightness and quirky charm to Corrie, as well as revealing a strain of insecurity in the character that proves rather winning. There's great chemistry between her and the always-stylish Dominic Tighe, who makes Paul's priggishness both exasperating and adorable. Oliver Cotton is spot-on as the randy gourmet Velasco and Lipman is, as expected, great value as the timid Ethel, especially in the scene that's the play's comic high spot: the foursome's eventful return to the apartment following a riotous night at an Albanian restaurant on Staten Island.
If there isn't much depth to Simon's writing here, there is at least a disarming generosity of spirit. No character is demonised or subjected to cruel ridicule; rather, it's suggested that the four protagonists all have something to learn from one another (even if you may still end up feeling that Paul would probably be better off with Mrs. Banks and Corie with Mr Velasco). There's nothing to test or challenge a viewer here, then, but Lipman's warm and engaging production makes for a thoroughly appealing evening's entertainment.
Reviewer: Alex Ramon