Barnum
Music by Cy Coleman, lyrics by Michael Stewart, revised version by Cameron Mackintosh and Mark Bramble
Chichester Festival Theatre in Association with Cameron Mackintosh
Theatre in the Park, Chichester
–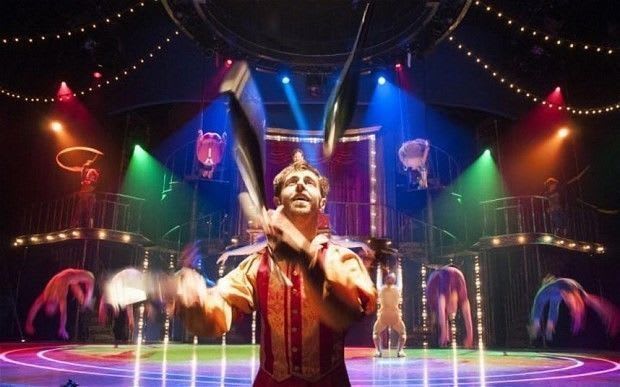 The newly-constructed, huge, tent-like Theatre in the Park could not be more perfect for this revised version of Barnum, but if people are expecting the plethora of circus tricks that appeared in the original they will be a little disappointed. This show has been devised to show the life of showman Phineas T Barnum, rather than simply spectacle, and what a life that was.
He was the master of 'humbug': fooling people, but making them happy to be fooled and willing to pay for the privilege. The power of publicity was as potent then as now, and his hard work and business acumen made him a millionaire in spite of being bankrupted twice, but he was also a philanthropist, believing in equal rights and privileges for everyone whatever colour, creed, or gender and was hounded out of congress for his views.
Broadway star Christopher Fitzgerald is a wickedly impish, fast-talking Barnum with a twinkle in his eyes as he presents "The Oldest Woman in the World" and a "Real Live Mermaid". He also manages a nerve-wracking tightrope walk while singing—a relief to all, including himself, when he gets to the end safely. We never see the mermaid, but there's a lovely turn from Aretha Ayeh, hauled out of her wheelchair to give a very energetic interpretation to the wittily funny lyrics of "Thank God I'm Old".
Tamsin Carroll brings affection, humanity and beauty to the role of Chairy, his long-suffering wife, although there's no sign of any of that in the programme photograph of the original lady. She's not above a bit of humbug herself either with her penny tossing.
In Timothy Sheader's fast-moving, two-hour show, most of Barnum's life is passed over quite quickly, with no time to elaborate and with lots of Cy Coleman's catchy songs to fit in, played by the elevated and almost invisible Adam Rowe orchestra. One of the most potent is "Love Makes Fools of us All" sung by the beautiful Anna O'Byrne as Jenny Lind, the Swedish Nightingale, as she is wafted up to the furthest heights of the theatre to disappear for ever. Is she regretting an affair she had with Barnum, and is he in "Barnum's Lament"?
Barnum might seem to exploit his human 'exhibits' but in the tap dancing performance of Jack North as 24-inch tall 'General Tom Thumb', we see that, far from feeling exploited, he at least was very happy with the situation and grateful for the fame and fortune.
"I've never been in something where I've seen people work harder or risk more to tell a story," says Fitzgerald, and there are some terrific performances, but it is the work of the ensemble which is most impressive. With only six days of intensive training to learn circus skills such as stilt walking and juggling, they perform the most intricate, inventive and acrobatic choreography (including aerial work) that I have ever seen (choreographers Liam Steel and Andrew Wright).
With panache, unflagging energy and even doing double duty as furniture or buildings, they give a true, enthusiastic circus spirit, and it's what made me really love this show.
Only on until 31st August—don't miss it!.
Reviewer: Sheila Connor