La Baronnade
The Bellboys (Les Grooms)
Barbican Centre
(2009)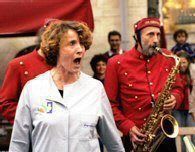 Unlike their previous versions of Wagner and Mozart Threepenny Ring and Tragic Flute Les Grooms' weekend promenade show at the Barbican doesn't have a story line - though it does have a theme: Happiness. These French visitors propose a new theory for economic systems: Gross National Happiness, on which they rate the English way above the French and declare that (quoting, they say, Bernard Shaw) Happiness should be like wheat - you shouldn't have the right to eat it if you don't produce it.
This isn't a play but this band of brass players (trumpets to tuba) and singers, all exhorting us to enjoy ourselves, are accomplished performers and it is a certainly an entertainment. It over-ran its advertised 90 minutes but its audience would happily have had it go on much longer.
It began inside the Barbican Centre at the Silk Street foyer with a welcoming burst of brass that segued into Papageno's music from The Magic Flute, tha band urging everyone to join in with its syncopation and commanding one lady to lead Papagena's responses. When the lady in front of me began to sing a little more strongly - she clearly knew the opera well and was in good voice - she was pulled forward. In fact, along with her 'husband' who was highjacked into providing English translations, she was one of the company: le baron is the French word for the 'plant' used by entertainers in the tradition of fairs and street performance, hence La Baronnade. In this show performers appear from everywhere.
Papagena was soon on the floor entangled with one of the band, oblivious to all, but followed with a startling rendering of the Queen of the Night's aria before we found ourselves led out into the street. There a bouncing crouching trumpeter received a round before we got our lesson in economics. Across the road the band encircled a car and stopped the traffic, serenading one car after another then moving up into the balconies of a residential block with a trumpeter answering from back high up in the Barbican complex. Next they took over a zebra crossing where what could have been a council worker in an orange gilet gave us an exotic dance. Leading us on, with a line of instrumentalists lying in the centre of the road the last left get up to move up to the front, we reached a 'No Entry' notice on the tarmac where everyone was encouraged to break the rules by going through a gauntlet of lined up musicians.
Finding a huge delivery truck about to move out from a shopping complex, the band surrounded it, and the driver was provoked into a musical exchange between band and motor horn. A female trumpeter then serenaded the driver before climbing through the window of his cab: happiness for this French woman, it was explained, is an English truck-driver. Since the driver could not be persuaded to sing, another musician climbed in to join him and then up on to the roof of the cab to deliver a bravura rendering of Figaro before the driver was allowed to proceed on his way. In the shopping arcade the band found a white-haired lady enjoying a quiet cup of coffee and, after serenading her, swept her up into a dance. Then an oriental shopper appeared carrying his child and the band immediately struck up a Chinese number before we moved on up the street, following a trumpeter in a shopping trolley and at the supermarket entrance a string of shoppers emerged who burst into song - this time plants for sure, the Fleet Singers, a British contribution to the show.
A baby held by one bystander, frightened by a bandsman's attention, was the cue for a calming lullaby while other performers borrowed children in push-chairs to create a tiny wheeled ballet around them. In the window of a pub above a man was on his mobile. The band asked to borrow it. No: he was talking to his mother in Spain, would the band play something for her? Soon the mobile was down on the street and a bandsman sent upstairs with an extra trumpet and we got a rousing Spanish number.
Now on to a small park where a street cleaner was trying to clear up around a female drinker, their argument turning into the killing of Scarpia in Tosca with some of the audience then called in to help carry away his body before a final number, the drinking song from Traviata, with the Fleet singers as chorus, drew the promenade to its close.
It's too late now to see La Baronnade at the Barbican but if you should get the chance to see it at another time or another place don't miss it. Of course, then there may be quite different improvisations and surprises within the overall pattern. Quite what they do if it pours with rain I don't know - but I'm sure they would have come up with something. I've described the show I saw, I can't describe the pleasure they give. This company is always enormous fun. Last time I saw them they had me playing Wotan in a scene from The Valkyrie, this time I got to kiss the exotic dancer. Who knows what might happen to you? And it is not just fun, they are also fine musicians and singers who provide a musical feast of popular classics.
Barbican performances March 7th and 8th only, now ended
You can see video of part of a performance of the show in France on
http://www.dailymotion.com/video/x5to9x_les-grooms-la-baronnade_creation
Reviewer: Howard Loxton