Dick Barton: Quantum of Porridge
Duncan Webb, music and lyrics by Stefan Bednarczky
Warehouse Theatre, Croydon
(2009)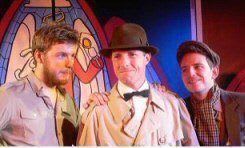 Once again Croydon Warehouse has the world premier of a new Dick Barton episode as its Christmas show. They are based on the characters created for a nightly fifteen-minute radio show which began in 1946 about Dick Barton (Special Agent) and his sidekicks Scottie and Snowy, a camp thriller featuring over-the-top plotting that frequently managed to free its heroes from the most inescapable situations with 'one bound and he was free' solutions. A sort of radio cartoon strip, it was broadcast at 6.45 each evening, had an exciting signature tune and became essential listening, with an audience of 15 million. It ran for five years and I would expect anyone over sixty who grew up in Britain would still be recognize is theme tune immediately. It was enormous fun and there was a cliff-hanger every night to keep you hooked.
This was long before that better known Special Agent Bond was created in 1953 (with the first film coming nine years later). Compare the latest Bond to that first movie and you will see how things have changed and the original Dick Barton would probably not be a format to captivate modern juveniles of all ages who have moved on from adventure comics to violent computer games and sophisticated gadgetry, but a series of new comedy adventures by various writers have become a regular and very popular feature of the Warehouse programme. They are not of course to everybody's taste - the reviewer for British Theatre Guide who covered last year's show was clearly not a fan - but these tongue-in-cheek nostalgic spoofs hit just the right note for some audiences who know what to expect and go to enjoy themselves.
I have seen several - and I like them, partly for the ingenuity with which they are mounted, partly for the mixture of musical and dramatic talent which the performers display, for the absence of amplification (when pantos elsewhere are heaping on the decibels) and for music which ignores contemporary pop for what sounds like a mix of Noël Coward, Gilbert & Sullivan and Music Hall.
This year's script seemed tamer than formerly, the first scenes like a rather lengthy preamble and, though they did prove to be part of the plot, it was lacking in the cliff-hanging suspense that should be a Dick Barton characteristic. Beginning when our brave boys have saved the Empire and secured the safety of Elizabeth II at her coronation it moves forward to 1977 and then to and fro in time - at one point Barton encounters his younger self.
There is an hilarious Scouse skiffle group called the Bootles, a porridge developed by both MI6 and the enemy, an explosive orb and sceptre and a question mark about a young man called 'Binkie' or 'Big Ears'. Is he really Barton's son and where did he come from? Our Dick has very strange ideas about human reproduction. Was his mother Jean (the Barton equivalent of Bond's Miss Moneypenny) and is she in a Stasi psychiatric ward?
The plot is hardly crystal clear - I wonder whether the writer himself could explain it -- but in Ted Craig's production plot is secondary; more important is the smile it puts on your face, not least at the way an actor morphs from one character to another. One hiatus between an actor's exit and his re-emergence as a dinner jacketed BBC Radio announcer becomes a comedy point in itself - all excellently handled by Kit Benjamin who gives Security Services Colonel Gardner just the right stiff upper lipped demeanour. Chris Dickins has just the right measure of public school arrogance for young Dick and Robin Kingsland as an older Dick adds an uncomprehending bemusement with Jonathan Busby and Richard Gee as Jock and Snowy and Susie Emmett at glamorous Jean and Barton's housekeeper.
Laura O'Connell's design provides a constant reminder of the character's origins with every possible design of forties radio painted on the wings and settings that slide in or unfold and place all the action in the context of an adventure picture-strip. Simple outlines and bold colours are also an excellent foil for Stefan Bednarczyk's musical numbers which sustain the show and get splendid performances from this team of actor-musicians who not only double all the parts but play all the instruments as well!
Runs until 21st February 2010
Reviewer: Howard Loxton